The Goldilocks Zone
As employee wellbeing and productivity rise up the agenda, Paul Arnold looks at the role of boilers in finding the sweet spot for office comfort and wellbeing.
According to a recent study, occupant performance can fall by 4% on average at cooler temperatures, and by 6% if the space is perceived to be too hot. Ensuring that the office heating system is reliable, efficient and well-controlled is therefore essential to create the optimum environment – from the open-plan office to meeting rooms and breakout spaces.
As boilers are a crucial component of the plant room, let's consider the specific requirements for effective office heating.
Efficiency and reliability were the main priorities for McCann & Partners, the M&E consultants appointed on the Canolfan S4C Yr Egin development. This iconic building is the University of Wales Trinity Saint David's award-winning hub for local digital and creative industries, and the new headquarters of the Welsh language broadcaster S4C.
"Achieving an energy-efficient building was a key requirement," said lead mechanical engineer David Airey, who specified two Remeha Gas 220 Ace boilers as the preferred boilers to meet Part L requirements of building regulations. "With their high operational efficiencies and reduced greenhouse gas emissions, these boilers also contribute to an improved SBEM rating on the project," he added.
It can be hard to be productive in the modern workspace if distracted by noise, so this is another factor that should be taken into consideration when specifying boilers. In fact, in certain offices quiet operation can be an essential requirement due to the design of the building and location of the plant room.
Take the Digital Mansion in Corsham, where a new extension was added to the original Grade II listed Mansion House to contain the main entrance, flexible working spaces and a large informal meeting area. The boilers were specified in part for their good noise performance. "Low noise was an important factor as the plant room is effectively in the centre of the office space," explained Kris Hudd of MJD Mechanical and Electrical Services who worked on the project.
As technology advances, building sensors will play an increasing role in achieving optimum temperatures by monitoring and measuring occupancy in different areas of the office building.
But it's important not to forget the basics. Selecting condensing boilers supplied with easy-to-use full time and temperature controls will make it easier to achieve and maintain optimal comfort and efficiency levels in different zones. In offices using a building management system, look for boiler models that supply straightforward, direct connection for a time-saving solution to improved energy monitoring and overall system efficiency and control.
Replacing any old or inefficient boilers in existing office buildings with condensing boilers and upgrading the controls is a win-win approach to increase comfort levels and lower running costs.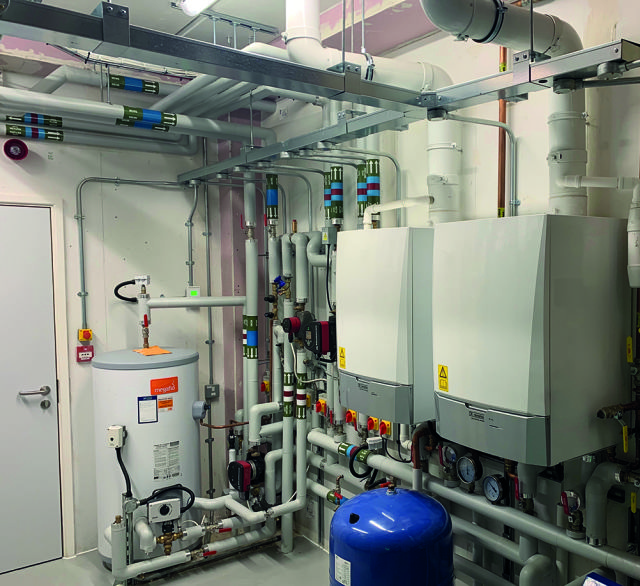 But as any disruption to the service or day-to day activity of the building comes at a cost to the organisation, the challenge is to carry out the boiler replacement with zero disruption to the heating service. This is typically achieved with either a phased or a live refurbishment.
Designing the system around multiple boilers will simplify the process while ensuring greater heating reliability, and easier maintenance and servicing. In offices with lower heat demand, robust commercial wall-hung boilers will typically provide the most appropriate solution, easily fitting into the plantroom alongside the existing boilers.
In buildings with higher heat demand, opt for floor-standing boilers that offer flexible, modular configurations as this will allow a high output to be achieved in a tiny footprint.
Good manufacturers will also offer customised options – such as off-site fabricated bespoke pipework arrangements designed for direct connection to the existing system – to enable ultra-rapid changeovers.
Where boilers are concerned, size really does matter. If plant room access is restricted, it may be necessary to use cranes, as was the case at South Ayrshire Council's County Buildings headquarters. The boilers needed to be craned over the top of the listed building and through skylights into the basement plant room, so it was essential to select a boiler model that could be easily handled. There was also a tight timeframe for the crane lift. It was, in the words of a Council spokesman, "a major feat of logistics".
The design of the fully-assembled, lightweight Gas 310/610 Eco Pro boilers selected was crucial to the success of the project, allowing them to be lifted safely as a complete unit. Their compact dimensions helped to overcome the space limitations and allowed access through the narrow skylight. Once inside the plantroom, the integral castors on the new Remeha boilers enabled them to be positioned quickly and easily.
Even small improvements in employee wellbeing and comfort will have a cumulative effect on productivity and, ultimately, on the bottom line. In new offices and old, ensuring high-performance heating is a practical step towards an enhanced office environment – and condensing boilers have a pivotal role to play. As manufacturers, our aim is to support consultants and contractors with a flexible product range that can help achieve the best indoor environments.
Paul Arnold is product manager at Remeha
Related links:
Related articles: