Lessons learned
Paul Arnold looks at how some schools have overcome the challenges of upgrading heating systems in older buildings.
As we head into autumn and temperatures drop, schools across the UK will be turning on their heating to combat the chill. Heating is the largest and most expensive energy user in a school, according the Carbon Trust, so ensuring that the system operates efficiently and effectively should be a priority. Yet, according to research by TES and the Association or School and College Leaders, 57% of England's schools have faulty boilers or heaters.
Replacing inefficient or non-condensing boiler plant with modern high efficiency condensing boilers is one of the most practical, cost-effective means of cutting energy consumption, lowering energy bills and creating the comfortable, productive learning environment required in schools.
But while boiler replacement can and should be straightforward, access and space constraints at schools combined with tight schedules can present interesting challenges for buildings services engineers. So how to overcome these complications?
Energy efficient design
On projects requiring lower heat outputs, wall-hung boilers are a popular choice due to their compact, lightweight design which helps overcome access and space constraints.
A key advantage of wall-hung boilers is their ability to be installed on a site-assembled manufacturer cascade system. This option offers several advantages on school refurbishment projects, reducing time and labour, improving performance and reliability, and enabling more straightforward, non-disruptive maintenance for high efficiencies throughout the boiler's lifetime.
A further benefit of a multi-boiler arrangement is that it increases the turndown ratio of the boilers, enabling more accurate matching of the heat demand. This makes the configuration particularly effective in school buildings with fluctuating heat demand, helping avoid oversizing and unnecessary energy waste.
And with the availability of wall-hung boilers with a higher output of up to 160 kW, schools like Birmingham's Archbishop Ilsley Catholic School have the opportunity to move large output away from the floor.
Reliability and energy efficiency were the key considerations at this large secondary school and sixth form college, making quality and performance the top criteria when it came to boiler selection. Heating engineers Spa Gas selected five Remeha Quinta Ace 160 boilers, with a combined output of 800 kW, to replace the old plant serving the school's sports facilities.
With a fixed project schedule to meet, the decision was taken to install the boilers on a Remeha cascade system.
"The ability to cascade the five boilers not only resulted in a neat, compact installation, but made the project simpler and faster," said Mark Fry, Director at Spa Gas. "In fact, the biggest challenge was getting the old boilers out of the plant room!"
In school buildings where the plant room is low-ceilinged as well as cramped, opting for compact floor-standing models will provide a more appropriate solution.
Potential obstacles such as extra-narrow stairways, doorways or corridors can be easily surmounted by selecting boilers that can be dismantled into parts, for later reassembly inside the plant room. Boilers with integrated castor wheels will also improve manoeuvrability into and around the plant room.
It's important to remember that it is not just the boiler footprint that needs to be calculated, but also maintenance areas, access space and walkways. However, the reduced footprint of advanced floor-standing condensing boilers makes them well-suited to modular configurations, providing increased flexibility in floor planning design while achieving the required high efficiencies.
Take Thomas More Catholic School in Purley, for example. When the old boiler plant began to fail, an immediate boiler replacement was required. Like more than 5,000 school buildings in England, this building is listed. As such, it presented building surveyors Faithorn Farrell Timms LLP (FFT) and M&E project contractors Cowley Group with complex heritage challenges.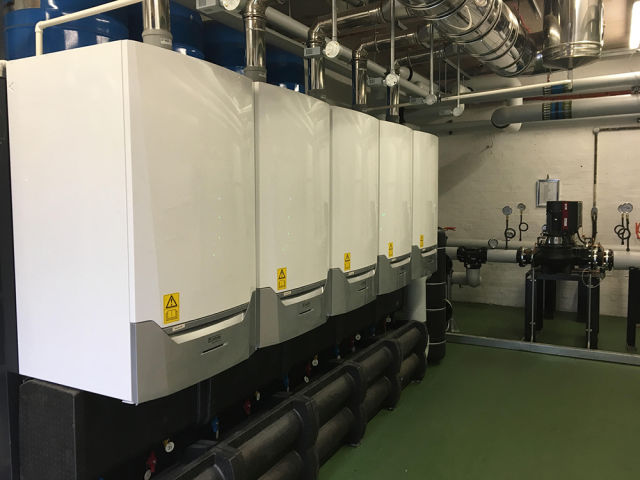 "The first obstacle we faced was access, as the primary entrance to the basement-level plantroom is via a very narrow and fragile Victorian cast iron staircase," explained FFT's Project Manager Abigail Blumzon.
"Added to this was the need to avoid any disruption either to the service or the building, as this emergency boiler replacement needed to take place during term time."
Cowley Group recommended installing two high-efficiency Remeha Gas 610 Eco Pro 13-section replacement boilers to meet the heat demand and site requirements. In order to overcome the access constraints, the old boilers had to be broken down and craned out of the basement through a lightwell. The size and weight of the new boilers was crucial as they had to enter the plantroom through the same space.
"A key benefit of the Remeha boilers on this project is their weight as we were able to lift them down into the plant room," said Cowley Group MD Anthony Gurr. "They were also narrow enough to fit through the doorways."
Forward-thinking manufacturers will also offer the option to use off-site fabricated cascade or rig solutions, designed bespoke to project and site requirements.
A case in point is Queen Elizabeth's Hospital School in Bristol, where two ancient cast-iron sectional boilers needed replacing during the fixed summer shutdown period.
"The nature of the listed school building meant that floor-standing boilers were required to meet the high 1,250kW heat demand," explained consultant Geoff Beaven. "But we were also working to a tight schedule, as the whole project needed to be completed within the fixed summer holiday period."
He specified installing five Remeha Gas 220 Ace boilers with a plate heat exchanger (PHE) on an off-site fabricated cascade system to meet the heat output demand in an exceptionally compact footprint.
PHEs are increasingly applied to refurbishment projects to achieve hydraulic separation between the boiler circuit and heating circuit. This prevents any debris or contaminated water entering the new boilers, increasing their longevity and durability while optimising their operational performance and the overall efficiency of the system.
A major advantage of using off-site fabrication heating techniques is that the unique requirements of the project and the site can be addressed and overcome at the outset. 3D drawings are produced at the design stage to enable early visualisation of the layout and make the most effective use of the available space, also factoring in access for maintenance and servicing. The cascade arrangement can be designed for easy connection to the existing system, saving on-site time and labour.
For contractor John Cowdery at Hewer FM, the offsite fabricated cascade was a good solution. "Space was tight in the plant room, but as the cascade had been designed specifically for this project, it fitted in well and connected together very easily."
The UK has set a target to reduce greenhouse gas emissions to net zero by 2050. While new school buildings must be designed to require less heat, our older school buildings will need to be refurbished and retrofitted over the next 30 years if we are to come anywhere near this goal.
High-efficiency, low NOx condensing boilers offer a practical, straightforward, low-cost solution to significant cost and emission savings, while simultaneously achieving the required high thermal comfort levels. And with trusted manufacturers like Remeha helping consultants and contractors evaluate the various options to overcome installation challenges, our industry can work towards achieving more comfortable and more energy-efficient schools.
Paul Arnold is product manager at Remeha
Related links:
Related articles: