Swegon reaches Zenith with new high performance modules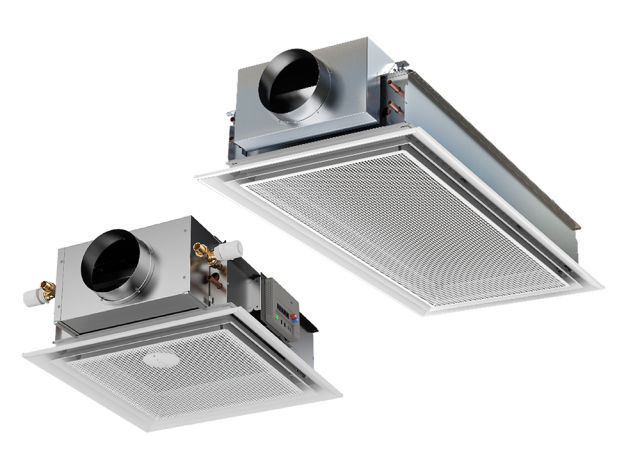 Swegon's new range of Parasol Zenith comfort modules offer a highly flexible option for a wide range of indoor climate projects.
These high capacity products combine cooling, heating and four-way air distribution in one compact unit. They have wide operating parameters so can be adjusted at any stage of a project to cater for changing demand requirements without the need to remodel the whole ventilation system. They come in three sizes between 600mm to 1800mm.
Parasol Zenith can also be adapted to deliver highly energy efficient demand controlled ventilation using motorised control of the built-in dampers. This means that the specifier requires only one product whether the air flow is designed to be constant, variable or demand-controlled.
This adaptability is particularly useful in projects where changes are made at late stages of the design process. Also, when the building undergoes structural alterations during refurbishment or change of use, the Parasol Zenith can simply be adjusted to satisfy the needs of the new space.
The unit also provides energy efficient heating, cooling and ventilation using water as the cooling or heating medium rather than refrigerant gas, which is another benefit at a time when these gases are facing increasing restrictions under the F-Gas Regulation.
Swegon claims that Parasol Zenith modules are also more efficient in operation than fan coil units and almost completely silent thanks to their innovative design. This is based around the principle of allowing positive pressure to build up inside the plenum chamber, which allows the air to flow out at high speed in small jet streams. This, in turn, generates negative pressure inside the unit that draws in room air through induction. The room air passes through a heat exchanger, where it is either cooled or heated as required.
The mixed air is then distributed across the ceiling via aerodynamic outlets and the Coanda effect ensures that the room is supplied silently with tempered, fresh air at the correct temperature and without draughts.
Related links:
Related articles: