Knightsbridge simplifies switching to LED fittings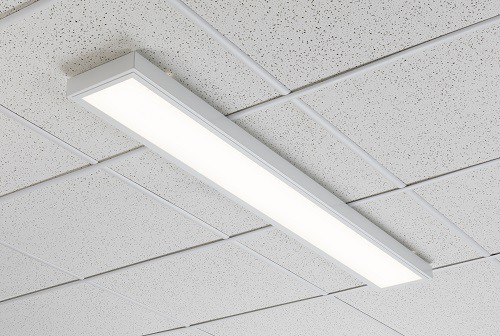 Knightsbridge has introduced the SUR5LED dual-mount LED luminaire that can be surface-mounted or suspended. It's an easily installed, retrofittable alternative to twin 5ft fluorescent fittings with a commercial grade output of 4790lm.
The 230V IP20 45W fitting is suitable for a wide range of sectors – including office, education, healthcare and retail – and complies with the latest Eco Design and ErP requirements. The light output is 4000K Cool White.
Featuring a modern, low-profile design, the SUR5LED is lightweight yet robust, as it is constructed from pressed steel and polycarbonate. What's more, it is quick to fit because it has push-fit, loop-in-loop-out terminals for easy wiring.
It can also work with many of the motion and daylight sensors offered by Knightsbridge – one of the UK's leading manufacturer of wiring devices, accessories and lighting – for greater energy savings and improved user comfort. A panel with emergency functionality – SUR5LEDEM – is also available.
Related links:
Related articles: