The future's bright, so dim those lights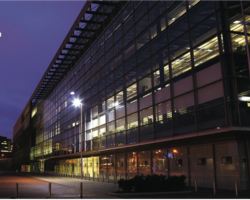 The chronic lack of a long-term vision to tackle energy use means domestic buildings could soon pull away from industrial and commercial equivalents. The BMS industry must stop thinking in the short-term and start shouting about the impact it can make for decades to come, according to RICHARD STROD.With Government plans to grade people's homes in relation to their 'green' credentials, we are on the verge of seeing domestic buildings race ahead of their industrial counterparts in terms of their impact on the environment. This, quite frankly, is a staggering situation. Industry should always be ahead in embracing cutting-edge technology and in finding ways to save energy and, more importantly, money — especially as fuel bills look set to rocket this winter. The idea of the bloated consumer, sitting at home and wasting energy freely, is shifting. Domestic energy users are becoming leaner and meaner — and business must act now or be left behind. It is not actually a competition, but what if in three years' time the Government introduces a levy based inversely on environmental impact? Business lobbyists will complain about the addition of another stealth tax and more red tape, but the fact is they will nott have a leg to stand on if employers have not shown a real commitment and determination to reducing their energy consumption.
Advantage
What the BMS industry must realise, and take advantage of, is that it all comes down to money. Let us not beat around the bush; corporate social responsibility is admirable, and businesses should be compelled to think more carefully about the impact they have on their surroundings — both physically and socially. However, the over-riding fact is that the success of a business is determined by one thing — its bottom-line profits. The duty to shareholders must be the driving force that determines how a business acts, and the environment will never be able to compete in a list of priorities. The principle is the same on a smaller scale and is arguably the root cause of the problem; employees will be far more environmentally-conscious at home than they ever are work, quite simply because at home it is their own money they are wasting if the heating is raging while the windows are open. The typical industry reaction to yet more legislation is a predictable one — more administration costs and more Government agencies to answer to. This reaction is not surprising since UK business is so highly regulated that it is surprising anybody gets any work done. Each year, the UK's 63 different national regulators carry out 600 000 physical inspections and distribute 2.6 million forms for businesses to fill in. However, to draw on a business cliché, the threat of extra regulation can be turned into an opportunity — and this is just one way that BMS can be used effectively.
Evidence
Businesses will quite happily spend thousands on newer technology that brings infinitesimal increases in productivity, such as PCs with slightly faster processors and photocopiers that print a little faster. This is where the BMS industry needs to stand up and be counted; let people know about the cost savings and show them the evidence. We are not in the business of pandering to the publicity around rising energy costs or the environmental damage that buildings are now doing by flogging gizmos that provide short-term solutions. We are not looking to help major corporations to tick a few boxes when the environmentalists come calling, hoping that they will go away again if there is a box in the corner that monitors electricity use. The emphasis must be on the long-term benefits that a carefully-managed BMS system will have. My company's entire focus is based around ensuring that the systems we install will carry benefits for the lifetime of a building. One example of this philosophy is Millennium Point in Birmingham, the UK's largest millennium project after the Millennium Dome. Energy savings of 12% and cost savings of £55 000 have been achieved in just 18 months. Yes, it is a large building (43 000 m2), but £55,000 in such a short space of time means the spend will be recouped quickly. Careful management over the coming years will mean any future savings are effectively profit. Millennium Point opened in September 2001 and has the flexible Sigma building-management system with state-of-the-art communication and integration technologies. It is based on proven, industry-standard IP technologies which suit any building, from the small to very large. Millennium Point is a multi-purpose building housing major visitor attractions and host to over a million visitors each year. About 650 people work in it, and 2500 students attend lectures there. The savings equate to a 9% reduction in electrical consumption and a 15% reduction in gas consumption. These savings have reduced the load on mechanical and electrical plant, increasing life expectancy. The building-control technology used is completely future-proof — avoiding the need to rip and replace further down the line.
Savings
TAC Satchwell was initially appointed to maintain the BMS, but we quickly realised that the building was not running at optimum efficiency — and it is this type of long-term consultation that the industry should be focusing on more clearly. The savings are being made through the investigation of utility consumption and performance across the site, the monitoring of energy distribution, including space heating, cooling, lighting, mechanical plant and office equipment, the assessment of the consumption of gas and electricity and their associated costs, and the monitoring of carbon dioxide and carbon emissions. The case of Millennium Point proves that there are no buildings that could not show an improvement in energy efficiency and that virtually everyone stands to improve bottom-line profits with what amounts to very little effort. If that does not appeal to the bean counters, what will?
Richard Strode is with TAC Satchwell, Smisby Road, Ashby-de-la-Zouche LE65 2UG.
Related links: