Honeywell is one-stop-shop for building systems in Derby shopping centre
Published: 20 September, 2006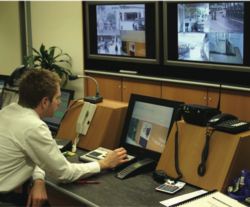 Total control — all the building systems serving Westfield Shopping Centre in Derby are being supplied by Honeywell Building Solutions as a turnkey project.
Total integration of building systems in the £330 million Westfield Shopping Centre development in Derby is being achieved using Honeywell's Enterprise Building Integrator (EBI) interface. It is bringing together building-management and life-safety systems, along with security and access control.
The development will provide about 100 000 m2 of new and upgraded retail space for over a hundred stores, plus a 12-screen cinema and an 800-seat café court.
Honeywell Building Solutions is specifying, providing, installing, testing and commissioning the building-management system, plus CCTV, security and access systems, as well as fire and public-address voice alarm systems throughout the new building and the part of the original centre hat is being retained and refurbished.
The installation includes hundreds of energy meters on a ModBus network. They will enable energy use to be analysed so that costs can be cut.
Barry Hetherington is Honeywell's account manager for the Westfield Shopping Centre project. He explains, 'There is a large measure of future proofing in the installation. The EBI platform provides integration with a diverse range of devices, enterprise systems and Internet and intranet sources, allowing the intelligent gathering of key facility information. The EBI can be easily upgraded to accommodate future expansion of the building or to integrate additional systems.'
comments powered by

Disqus