Building value with intelligence
Although the capability to deliver intelligent buildings exists, the uncertainty of clients presents barriers to their acceptance. ALISON NICHOLL advises how to break down those barriers. Over the past 20 years many different buildings have been labelled as 'intelligent'. However, the application of intelligence in buildings has yet to deliver its true potential. Relatively few clients, or their professional advisers, have sufficient experience and understanding of contemporary intelligent-building solutions and what they have to offer in terms of improved performance and value. A well-established intelligent-building solutions capability now exists, but suppliers find it difficult to demonstrate and prove the benefits of these solutions. Many on the demand side remain unsure and, indeed, sceptical of the benefits and the value that investing in improved building intelligence can provide. All too often decisions about building systems are made on the basis of 'cost is king' but in the long-term value proves to be the ace. Making decisions based on whole-life value presents real challenges for design teams, requiring specifications to be based on long-term value propositions. To effectively communicate the benefits of intelligent-building solutions to their clients, building-services professionals must understand who their client is and what their value propositions are. Value propositions vary widely across vertical markets and according to whom with in the organisation you talk to. Fig. 1 illustrates five levels of the value ladder.
Criticality
Intelligent-building solutions must reflect the criticality of the building in the business process, in terms of the resilience and the reliability of the building systems. All levels within the client organisation are concerned with establishing and monitoring an appropriate level of performance. If systems are unreliable then the other potential benefits will not be realised. The onus is on building-services professionals to ensure that systems are effectively specified, installed and commissioned and that appropriate service and maintenance strategies are employed. All too often intelligent solutions are seen as failing because they have not been correctly installed or have not been maintained effectively. At this stage factors such as safety, durability, security, maintainability and standards are key. Safety and security are often cited as barriers to integration of intelligent systems — especially fire detection and alarm systems. However examples exist such as the new Crown Estate Building at New Burlington Place in London, where all building-services systems, including fire and access control, are carried on the same advanced network.
Efficiency
In the short term cost-centre managers must focus on efficiency and cost savings. Their planning outlook will generally be less than a year and will be strongly aligned with departmental budgets. Drivers include affordability, space management, energy management, utility management, maintenance-cost management and time management. At this level, clients will be interested in saving money on energy bills, telephony bills etc., and intelligent-building solutions must be sold on that basis.
Effectiveness
At the next level, business-centre managers will be interested in the effectiveness of the building and how it contributes to business performance. Their outlook will be slightly longer term and will consider a one- to three-year time-frame. Clients will be interested in intelligent-building solutions that enhance the business process. Rather than considering energy bills they will consider thermal comfort and its impact on employee performance. Decisions will not necessarily be made on the basis of lowest cost. Drivers include productivity, controllability, information, comfort, manageability and functionality.
Adaptability
Over a longer time frame. business directors will be interested in opportunity and adaptability. They will be interested in how the building reacts to changes in the business process generally over a time frame of three to five years. Drivers will include flexibility, profit, responsiveness, interaction, education and learning and health and wellbeing. At this level, clients will be interested in the scalability of systems, ensuring that as the business grows, intelligent-building systems will be able to accommodate increased capacity. They will also look at how building systems will react to changes in the business process, such as requirements for home-working and hot-desking.
Responsibility
At the highest level within the organisation, the board will have responsibility for the long-term survival of the organisation. Drivers for intelligent buildings will be environmental sustainability, social sustainability, long-term performance, quality, value and vision. The board will look at intelligent systems in terms of how they can contribute to the organisation's overall survival and enable business performance over the long term to be improved. The board may look at systems with a time frame of 15 to 20 years and at systems that will contribute to both the current and future performance of the buildings and how they will react to predicted and anticipated changes in legislation such as increased environmental regulation. Any sales proposition for intelligent-building solutions will consist of a mix of these value propositions, tailored to the aims and expectations of decision-makers at different levels of the business.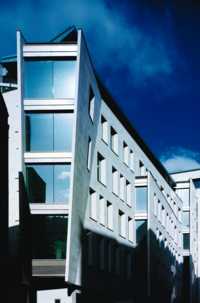 The new headquarters of The Crown Estate in London's New Burlington Place has a single advanced communications network to serve all building-services systems, including fire and access control. It plays an important part in managing the building to maximise the use of natural daylight, photo-voltaic cells and CHP system. The building has been BREEAM certificated and achieved an environmental performance index of 10.
How value is actually quantified varies considerably across different vertical markets. In all industries success will ultimately be measured in terms of profitability, but each vertical market will have its own characteristics influencing profitability. In the retail industry, for example, intelligent-building solutions can be used to optimise energy usage — thereby reducing costs and enhancing thermal comfort to provide a more pleasant customer environment. In a hospital, success will be measured in terms of how patient throughput and factors such as thermal comfort and entertainment systems can significantly enhance the patient experience and contribute to their recovery times. Building-services professionals must have a clear understanding of their clients' value propositions to ensure they receive the ultimate building-services solutions to meet their requirements.
Alison Nicholl is a business analyst with I&I Ltd, Building 9, Bucknalls Lane, Garston, Watford WD25 9XX.
Related links: