Addressing the need for cooling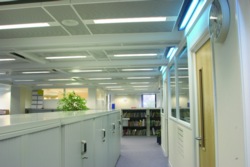 Conventional air conditioning may not be the best way of delivering comfort in buildings as ambient temperatures rise.JOHN STAUNTON discusses an alternative.In February this year [2006] climatologists at the University of East Anglia, home to the leading British climate research centre, reported findings which show global warming in the past century has been greater than any other shift in the world's climate over the past 1200 years. The increase has been especially sharp in recent years, with all 10 of the warmest years on record occurring since the mid-1990s.
Inevitable
Predictions vary, but it is generally accepted that some degree of climate change is inevitable and that it could happen faster than was previously expected. Understanding and adapting buildings to minimise energy consumption is a key challenge facing today's building-service engineers. Buildings must somehow be kept within certain parameters without generating excessive emissions of carbon dioxide emissions. Room comfort is not solely about meeting regulatory and best-practice temperature guidelines. A good supply of fresh air should be provided, and the achievement of a consistent ambient temperature is ideal. Negative elements of air conditioning relating to room comfort include significant air movement and noise, which pose problems in keeping all occupants comfortable. Various ways of delivering Natural-ventilation are increasingly being applied as an alternative to air conditioning, and it is the use of chilled ceilings and/or beams which ensures such systems can cope in times of extreme summer heat. Minimal air movement is achieved, alongside good air quality and a reduction in noise — all key points, given that many studies link the environmental conditions in the workplace to productivity. These can all be achieved whilst being energy efficient. So is a revolution underway? Fan-coil units are still the preferred option for conventional air conditioning, particularly within offices. However, end users, specifiers and building designers are increasingly taking more notice of the low running costs, sustainable credentials and aesthetic and space-saving benefits of solutions using chilled ceilings and beams.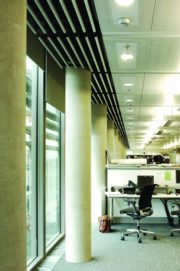 This installation of chilled ceilings and beams is in the office of Marks & Spencer at Paddington in London.
Serious
Drivers for change include the 2006 amendments to Part L of the Building Regulations, which focus firmly on how services perform at an integrated level. For the first time, designers have to get serious about the energy efficiency of heating, cooling and ventilation systems. However, it may be that the architectural arguments are actually currently carrying more weight. Why resist a solution that provides a flexible means of delivering excellent comfort control and low energy consumption, all in a discreet way, without any of the bulky and unsightly duct work associated with air conditioning? Sometimes combined with displacement ventilation systems, chilled ceilings and beams provide static overhead cooling. Greater occupant comfort is achieved with this method as it causes minimal air movement and removes the obtrusive noise generated by mechanical alternatives. While the fewer moving parts guarantee a long product life and very low maintenance costs, its low-energy credentials offer considerably reduced running costs. Working on the theory of passive cooling, chilled ceilings look no different to ordinary ceiling panels. They using chilled water to remove heat from the room. Warm air coming into contact with the visible surface of the panels warms the water inside the element. Chilled ceilings can have a cooling capacity of 65 to 75 W/m2, and the high flow and return water temperatures mean options exist for free cooling and ground sourcing technologies.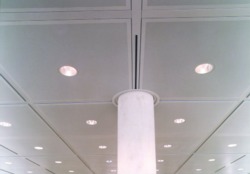 This installation at Broadwick house is finished in silver metallic paint rather the RAL9010 white. There is a latch hinge-down facility for easy access to the ceiling void. The installation also features a radius ceiling.
Environmentally attractive
Such water-based systems are environmentally very attractive, particularly in light of recent controversies over the aggressive effects of the modern synthetic refrigerants that are used in air conditioning. Typically, the water supply needs to be 13 or 14°C, which allows the use of cold-water storage or free cooling from the outside air for most of the year. As a result a much better energy performance is possible, even when mechanical cooling is required to produce the required temperature. While chilled ceilings and beams will not be appropriate for every building, they can be applied to most new and refurbishment office projects. In many respects, the solution is ideal for refurbishment applications — given the low installation height requirements. The industry should reach a point where considering the use of such technologies is standard practice, rather than regarded as the height of sophistication. After all the technology is hardly new — some 185 000 m2 of chilled ceilings were installed in London's groundbreaking Shell Centre in 1961.
John Staunton is room-comfort brand manager with SAS International Ltd, 31 Suttons Business Park, London Road, Reading, Berks RG6 1AZ.
Related links: