100 days is just part of ongoing campaign for Copthorne Hotel at Cardiff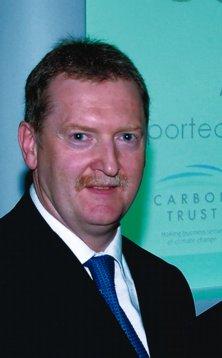 Even with five years of energy-saving initiatives under its belt, the Copthorne Hotel at Cardiff was able to embark on enough new measures to scoop the award for the most carbon saved.For Gary Hughes, property maintenance manager for the Copthorne Hotel at Cardiff, CIBSE's 100-days campaign was just part of his continuing efforts to reduce energy and water consumption which began in 2001.
Extra focus
The 100-days campaign gave these efforts an extra focus. Of all the entries, the Copthorne Hotel achieved the greatest carbon savings over the 100 days 10.2%. This 4-star hotel has 135 bedrooms and employs 90 staff. The 100-days campaign was extensively publicised throughout the hotel via posters, stickers, departmental meetings and monthly environmental meetings. Area representatives collected departmental ideas and brought them to monthly meetings for evaluation and, if practicable, implementation. All departments were supplied with full details of monthly utilities consumption. The consumption of utilities was analysed daily, all department initiatives were monitored and new ideas and practical strategies implemented. Among a range of new ideas was to plan and implement a initiative to halve the cost of lighting in guest bedrooms. A large quantity of low-energy lamps was bought, and they were fitted by the hotel's maintenance team. The initial phase of this work on the fourth and fifth floors saw operational lighting costs fall by about 70%. Another scheme involved fitting solar reflective film on the windows of third-floor offices to reduce air-conditioning requirements. Gary Hughes is responsible for maintaining drive and focus towards the campaign goals, but acknowledges that task has been made easy by so many staff having bought in to the basic concepts.
Water saving
Early initiatives dating back to 2001 included linking the heating for guest bedrooms to a weather-compensating system, controlled by the hotel's business energy management system. Radiators were fitted with thermostatic radiator valves, and the hotel's CHP unit became, in effect, the primary boiler — with the three main boilers operating on standby for 17 h a day. Hippo bags were put in each toilet cistern to save about 2 litres of water per flush. More recently all urinals have been fitted with timed flow devices. A review of lighting requirements in all public corridors reduced electricity use by 60%. During the summer, two boilers were turned off and isolated, reducing unused capacity. Set points in boiler flow headers were reduced by 2 K. The list continues with optimum operating conditions and timings for air conditioning in the function suite being determined and implemented. Wash hand basins in public areas were fitted with flow restrictors to reduce water and energy consumption. The temperature in the pool hall was reduced by 1 K. The speed of hot-water primary pumps was reduced by 30% without any negative effects. The energy-saving benefits of Gary Hughes's effort are gaining momentum. From 2004 to 2005, electricity consumption fell by 54 100 kWh. That figure was eclipsed by a fall of 217 479 kWh for the first seven months of this year compared with the same period in 2005. Gas consumption fell by 14 000 kWh from 2004 to 2005 and by a further 16 941 kWh for the first seven months of 2006 compared with the same period last year. Water consumption has dropped dramatically. A fall of 125 000 litres in 2004/2005 has been followed by 2 524 000 litres for the first seven months of this year over the same period in 2006. The saving in carbon-dioxide emissions for 2006 is already put at 96 729 kW.
Commitment
Gary Hughes comments, 'These figures demonstrate the hotel's commitment to responsible energy management. While accepting there is always scope for further improvement, the staff and management team can be justifiable proud of their efforts to date.