Design issues for commercial heating systems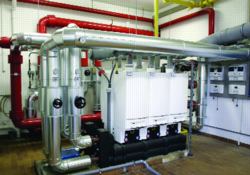 PETE MILLS looks at some key considerations in designing commercial heating installations to maximise the potential of gas-fired condensing boilers.Condensing technology is the latest advance in commercial-heating installations and brings significant cost saving benefits by reducing fuel consumption. The basic principle of this relatively new technology to the UK is to utilise energy which would otherwise be lost through the flue in a conventional system.
Savings
By cooling the hot flue gases in the heat exchanger, the water vapour is condensed, releasing the latent heat and delivering a net calorific value (NCV) efficiency of up to 110%. Compared to conventional gas-fired systems, savings of up to 15% can be achieved. For oil the saving is up to 10%. As condensation only occurs when the return temperature is below the dew point of the flue gasses (about 56°C), the benefits of a condensing boiler derive from having the lowest possible return and flue temperatures. The efficiency of the heat exchanger, together with low return temperature and modulating operation, are the key factors in creating the most energy efficient, and therefore most economical, heating system. The longer the time the boiler operates in condensing mode, the greater the fuel savings. These savings are achievable on new heating installations where the entire system is designed to maximise the benefits of condensing technology. Return temperature is the key to whether the installation of a condensing boiler is an economical option, and new systems are therefore designed accordingly. Existing systems, however, have different considerations to take into account. It is not simply a matter of replacing an old boiler with a new, more efficient condensing model. In many cases, the design parameters of the existing system were based on a constant 80/60°C flow/return temperature. However good the condensing replacement is, it cannot operate in condensing mode at these temperatures. If running costs are the main consideration — and they often are, as we have seen a steep rise in fuel costs over the last year or so in particular — then boiler efficiency is a determining factor.
Vital aspect
Controls are a vital aspect in helping to raise the efficiency of the whole heating system. Energy-management systems (EMS) are built into some boilers and allow the control system to work in perfect harmony with the boiler automatic firing system to maximise operating efficiency. For larger and more complex installations, the EMS that comes as standard with Buderus GB162 and GB312 boilers communicates with the high performance 4000 range of control systems which provide a wide variety of control options for single- and multi-boiler installations of virtually any size. In general there is a move towards more flexible, new generation systems such as wall-mounted boilers that are suitable for using individually or in cascade. Such boilers can deliver high performance and high efficiency, with no minimum-flow-rate requirements. Commercial-heating-system design is now more versatile than ever, with a wide range of boilers specifically designed to meet virtually every commercial and industrial application. With so many options open to the heating-system specifier, Buderus offers a technical advisory service to assist system designers identify the type of boiler best suited to each individual application.
Pete Mills is technical liaison manager with Buderus, Cotswold Way, Warndon, Worcester WR4 9SW.
Related links: