Designing for lower pump energy consumption
While high-efficiency motors and variable-speed drives have a role to play in reducing the energy used by pumps, system design is much more important.
Roy Henderson explains.
Variable speed drives and high efficiency motors are vaunted as the future of energy efficient HVAC. But how valuable are they, in reality, in reducing carbon footprint? The high efficiency EFF1 motor attracts Enhanced Capital Allowances — and rightly so. EFF1 motors, over most of their operating range, offer a 4% improvement in efficiency compared to EFF2 drives. We must not forget however that trimming a pump impeller to match the precise duty required (Modern Building Services, October 2006*) can deliver an energy efficiency improvement of 16%. Therefore a system using a high-efficiency motor will continue to waste 12% of the energy it consumes, for its entire lifecycle, if the impeller of the pump has not specifically sized to suit the duty. It is important not to see the high-efficiency motor as a panacea. The same argument applies to the use of variable-speed drives, for the performance of a motor is much reduced below 75% of full load. The nature of the application and the control of the pump is therefore crucial if the energy saving potential is to be fully realised. Reduced carbon footprint stems from minimising the overall energy consumed during the manufacture of the equipment and during its useful life. This demands finding the optimum solution for the application, rather than simply specifying components that are individually energy efficient. High-efficiency motors and variable-speed drives are valuable tools in this process; however, methods of exploiting their full potential are overlooked.
Parallel pumping
One such opportunity is parallel pumping. The tradition in the UK is to specify a full-duty standby pump for each application. The UK is extraordinary in having this level of standby coverage. As a result, the ratio of pump power installed to pump power required is significantly higher than other countries. This could be due to the common assumption that if one of two pumps in parallel fails, the remaining pump will cover only half the duty — insufficient for demand. This is not so; half the installed pump power does not equal half the capability. Fig. 1a shows a pump curve for an application with a system design duty of 200 l/s at 200 kPa. Traditionally, a pump with a 75 kW motor would be specified for this application with a second 75 kW pump installed as full duty back-up and standing idle. That is a total of 150 kW installed. Fig. 1b shows a parallel pumping alternative for the same application. The duty is split between two smaller pumps, each with a 37 kW motor (a total of 75 kW installed compared to 150 kW). If one pump fails, the remaining pump delivers far more than 50% of the full design duty. As can be seen on the operating curve (Fig. 1c), it can deliver 167 l/s, which is 83% of the full design duty — while the other pump undergoes maintenance. A parallel pumping approach therefore effectively halves the carbon footprint for manufacturing the equipment itself and also halves the installed power. The two smaller and lighter pumps are easier to install and maintain and, as they have a lower upfront cost than two much larger pumps, there are cost benefits for the contractor as well as for the client. Clinging to full duty standby is also outmoded in the light of advances in technology. Split coupled pumps with external seals, for example, enable seal changes to be carried out by just one operator in minutes rather than hours, without the need to disturb other pump components or the motor connection.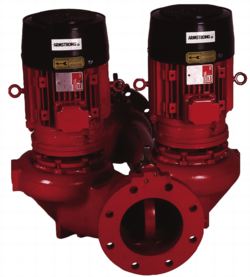 — Fig. 2: Armstrong's dualARM twin-head pump is well suited to parallel operation, having a valve arrangement that allows one pump to operate while the other is being serviced.
It is worth remembering that, unlike other European twin-head pumps, Armstrong's dualARM range can be specified for duty/stand-by applications but is also well suited to parallel pumping. Two hydraulically identical casings are incorporated in a single body. The valve arrangement allows one pump to operate while the other is serviced (Fig. 2). This negates the need for 100% redundancy. In summary, an immediate method of reducing carbon footprint is to look carefully at design stage at the pump power required, and use parallel pumping and modern maintenance features to reduce it without compromising supply.
Variable-speed drives
Variable-speed drives provide significant opportunities for energy efficiency, particularly in secondary, variable-demand systems. However, some system designers are put off by the added complexity of variable speed and fear that the actual energy efficiency will fall short of that promised. The availability in recent years of variable-speed pump packages made off site with built-in control overcomes these fears by avoiding the problems inherent in designing a system from scratch from a list of components. In purely practical terms, a packaged-pump system provides the peace of mind of a single source of accountability. More importantly, technical benefits stem from built-in control technology, which have a direct impact on carbon footprint.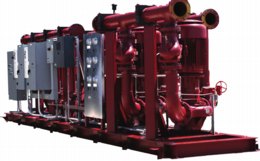 — Fig. 3: To maximise energy efficiency, this pump package incorporates Armstrong IPS (Integrated Pumping Systems) controls which modulate pumps on and off so that the pumps operate in the best efficiency part of their curve.
The pump package in Fig. 3, for example, incorporates controls that modulate the pumps to stage on and off, according to demand, so that the pumps are operating in the best efficiency part of their curve at all times. This approach, best-efficiency staging, goes one step beyond the specification of high-efficiency components. It provides an automatic safeguard that the components always operate at their most efficient. With variable speed drives, system designers can also employ the principles of parallel pumping to reduce the installed pump power and minimise energy consumption. In conclusion, high-efficiency motors and variable-speed drives have an important part to play in reducing carbon footprint — but they should be seen within the wider context of finding the most energy-efficient system design for the application, with the aim of reducing overall energy consumption.
Roy Henderson is sales director with Armstrong Pumps
Related links: