Low-carbon consultants — rising to the challenge of carbon reduction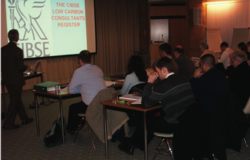 Samantha McDonough, CIBSE's director of policy, discusses the vital role that CIBSE register of low-carbon consultants has in realising the objectives of the latest Building Regulations.
The DCLG decision in 2006 to discontinue processing any new applications for schemes for competent-persons could not have come at a worse time for energy efficient building. For the most complex of Building Regulations there is no formally approved Government scheme to recognise the competence of designers to give clients or building-control officers the assurance that a building complies with the conservation-of-fuel requirements.
Recognition
In the absence of such a scheme the CIBSE register of low carbon consultants is gaining recognition in the market place. Using a consultant from the register will be highly beneficial if you want a new building designed to Part L (2006) or a building that exceeds minimum standards of energy performance and produces significant savings in running costs. Undertaking refurbishment of an existing building to the extent that it falls within the scope of Part L (2006) will also benefit from engaging a consultant on the register. Low-carbon consultants are well versed in low-carbon design principles, and can also liaise with local authority building control to ensure that your plans and, later on, your building comply with Part L of the Building Regulations. The current Part L assumes that at least 10% of a building's energy will be generated on-site from renewable sources. Types of technology recommended are absorption cooling, biomass heating, combined heat and power (CHP) and micro CHP, ground-source cooling, ground-source heat pumps, photo-voltaics, solar water heating and wind turbines. Each building will have a unique solution depending on its location, site and general weather conditions. Low-carbon consultants provide the expertise needed to decide which technology would be most appropriate.
Obsolete
The Part L assumption that 10% of a building's energy is likely to be achieved through renewables on-site is on the cusp of being obsolete already — even before any demand generated by Part L 2006 has created any mass market and drop in costs. More and more clients are looking for higher contributions by renewables, not least encouraged by the Mayor of London, who is currently proposing a 20% requirement, with the intention of moving towards wholly zero-carbon buildings. Even Government is recognising that the stakes have to be higher if we are to meet the long-term climate-change commitments. The latest DCLG consultation is called 'building a greener future: towards zero carbon development'. There is plenty of advice. The 'London renewables toolkit', the DCLG publication 'Low or zero carbon energy sources', CIBSE's 'TM 38: integrating renewables into buildings' and the forthcoming CIBSE 'Guide M: sustainability' all provide advice, but it is important to integrate the right technology with the building type. For example, combined heat and power is best applied in buildings that have 24-hour energy requirements and constant utilisation throughout the year. Low-carbon consultants are required to build upon their knowledge and application of renewable technology year upon year to ensure that their advice keeps up with the rapid developments in this area. For those who want to benefit from becoming a low-carbon consultant, there are different lists for different professionals. The design side of the register is for suitably qualified professionals able to sign off compliance of new buildings and major refurbishments with Part L. The building operation section of the register focuses on the skills required to improve the energy performance of existing buildings and anticipates the requirements for energy assessors under the EU Energy Performance in Buildings Directive.
Simulation software
CIBSE is shortly to launch a further aspect of the low-carbon scheme for operators of simulation software. Following the success of the operation and design aspects of the register, the simulation category will be for those who have been trained and examined in their competence of one of the simulation packages used to perform the calculations associated with Part L. Any built-environment professional with experience in energy can become a low-carbon consultant under the CIBSE scheme. The initial knowledge is tested through an examination and ongoing competence is demonstrated by carbon returns, where the consultant submits a record of the carbon emissions their designs or modifications to a building have achieved. There is plenty of guidance on the LCC website (www.cibse.org) about the level of knowledge suggested before candidates present themselves for the examination. There is also a supporting training package, which all candidates are advised to take before undertaking the examination.
Feedback
CIBSE has received positive feedback from a number of consultants who have successfully passed the examinations and made it onto the register. Brian Spires of HLM Architects said, 'The decision by our board to participate in CIBSE's low-carbon consultant scheme was taken because it was felt that it would give credibility, as well as added value, to the service already being provided to our clients in respect to low-energy design. Registration has, however, had an unexpected benefit in that our clients now see the service provision as one providing commercial certainty to an area where previously there was none — i.e. Part L compliance. There is a perception, particularly amongst our contractor clients, that we now have a key to the door.'
Related links: