Delivering lower carbon emissions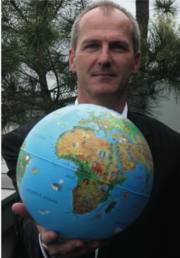 The technology for reducing carbon emissions can be more readily available then finance.
Peter Walker explains how this dilemma can be resolved.
The reduction of carbon emissions and the resulting need to make our buildings 'greener' have never been higher on both the legislative and media agendas. For instance, the UK Building Regulations Part L published in March 2006 have the key objective of saving a million tonnes of carbon per year by 2010, whilst consultation on the Government's guidance document 'Building a Greener Future — towards zero—carbon development' ended on 8 March 2007. Developers of new-build housing and also those refurbishing existing buildings need to ensure that their buildings are energy efficient. How do they go about this, and who foots the bill? These are questions that we at EcoCentroGen (ECG) have been helping to answer for environmentally conscious developers such as Urban Splash and City Lofts Plc. EcoCentroGen provides funding towards the, design and project management services for sustainable power, heat, cooling and data services in residential and mixed-use property schemes.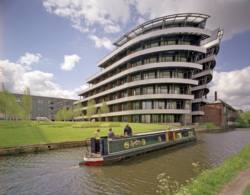 — Showing the way to financing green technologies — the Budenberg Haus Projekte in Altrincham.
For 290 apartments at the Budenberg Haus Projekte in Altrincham, South Manchester, EcoCentroGen were commissioned by Urban Splash to provide finance, detailed design and supervision of the construction of an energy and data services solution. EcoCentroGen was established in 2001 and delivers financial and technical solutions for sustainable residential and mixed-use property schemes. In essence, the company helps developers by providing an up-front capital contribution to neutralise (or better) the additional costs of the 'green' technologies involved, followed by advising the developer's design team on a sustainable-energy strategy and the subsequent design and installation of those technologies. ECG then operates the heating/cooling, power generation and data services, typically referred to as the 'energy centre,' as a profit-making 'concession' over a long term (typically 30 to 40 years). Technologies Typical technologies that might be specified within this on-site 'energy centre' include the following. • District-heating networks
• Combined heat and power systems
• High-efficiency boilers and heat exchangers
• Ground-source heat pumps and thermal stores
• Photo-voltaic panels
• Wind turbines In addition, any excess or peak energy requirements can be bought from sustainable off-site sources, such as wind farms. ECG is actively pursuing its own such projects, especially in generating electricity using wood. Such a combination of financial and technical instruments is not only environmentally responsible but also benefits all the parties involved in the development — from the site owner/developer through to the end user/occupier. The initial investment is typically recovered from the residents and the landlord (or landlord's agent) under an agreement that includes a single monthly bill for supplying electricity, heating, cooling, digital television, telephony and broadband. A crucial element, both to reducing the carbon footprint of a scheme like Budenberg Haus and to maximising the financial benefits to all parties, is reliable, real-time metering –— not only of energy but also associated resources such as water. The efficiency of on-site generation makes possible a discounted electricity tariff throughout the contract period and greater predictability for annual utility costs. A comparative 'basket' of conventional electricity suppliers is agreed with the client as an average baseline, against which a 10% discount is guaranteed. Further, and in contrast to traditional utility companies which can only generate more revenue by selling more energy, EcoCentroGen educates and incentivises customers to use less energy. The same fibre network that relays live energy and water billing information from sensors in each apartment to central data servers also provides the latest electronic entertainment, community information and security services. Many of these services have a sustainable element to them, such as: • remote switching and monitoring of appliances; • access to 'paper-free' building and landlord notices; • booking of eco-friendly services such as car pools and recycling collections; • video entry system to let suppliers in, without the impact of travelling from/to work. The benefits are not purely environmental or financial. The ECG model can also help give a developer or site owner genuine green credentials and an associated marketing advantage, without adding to their build costs when these are compared with a 'business-as-usual' approach. Tom Fenton, Associate Director of Development for Urban Splash Ltd, summarises the key advantages they have experienced in Altrincham: 'Our successful partnership with ECG at Budenberg Haus Projekte will give purchasers the convenience of a single bill for all their utilities which they can even check on line or through the television. 'In addition, our customers benefit from greener electricity, which costs them 10% less than mainstream providers — and this has made our developments even more desirable to consumers.'
Peter Walker is managing director of EcoCentroGen.
Related links: