Better value in building- management systems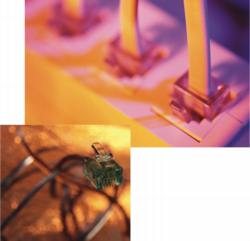 MIKE WILLIAMS believes that more powerful and less expensive technologies have overtaken dedicated building-management systems — presenting potential purchasers and users with the ability to have all the useful functionality required, but at a lower price.In the 1960s and earlier, HVAC control systems were made up of sensors, detectors and devices which were hard wired to dumb input/output data-gathering panels. These panels were, in turn, hard wire back to central processing units (CPUs) (initially relays, analogue leading eventually to electronic and digital) and a man machine interface. All this collectively represented a complete system. During the 1970s, technologies with distributed intelligence emerged, again comprising sensors, detectors and devices. However, these devices were connected to local outstations with distributed intelligence (good and right at the time), rather than dumb ones. These outstations were connected to a dedicated BMS, communications bus/proprietary network and, of course, a man machine interface. All this, again, represented a complete system, which generally is the way things have been for 30 years or more.
Packaged plant with in- built commissioned controls
Frequently and increasingly, plant such as boilers, air handling, chillers etc. all have their own dedicated control systems installed and commissioned at the factory, allowing the plant to be delivered to site requiring nothing more than water, air and electrical connections — with little or no requirement for on-site commissioning, which brings great benefits. Of course, procurement and commercial issues mean that control systems for chillers may well be different from those for boilers, which in turn may be different from controls for air-handling plant etc. etc. To date, BMS technologies have been used to normalise these differences in an overlaying fashion — albeit in their own proprietary way. It is not the BMS that controls the chillers but the chillers' own in-built controls. All the BMS does is to transport data that needs to be at another place, but in doing so justifies the continued use and need for a complete BMS — but at what price for this overlaid BMS technology? The key components in each dedicated control system are, and always have been, the sensors, detectors and devices which measure, monitor and control. New techniques, now rapidly being adopted, require that these sensors, detectors and devices all be IP connectable and have an open communications protocol. Meeting these requirements makes possible open normalisation by using the power and cost effectiveness of Ethernet and TCP/IP, the standard open IT networking technologies, that represents the world-wide digital standards for transmitting and communicating digital data, images and voice, simply evidenced by their powering and driving of the Internet. In this way, utilising this ubiquitous combination of Ethernet and TCP/IP allows the single network to be used to carry all the data for boilers, chillers, and air-handling plant, as well as all the other building systems. This same network can also carry images and video associated with digital signage and CCTV cameras and digital recorders, along with digital voice traffic such as telephony, intercoms and public address. This network can also serve the many other building systems which need to have data flowing around a building in order to operate. Such systems include access control, lighting control, intruder alarms and, of course, all of the traditional IT and communications traffic which runs on servers, workstations, routers, switches, hubs, printers and the like — both wired and wireless. Harnessing the massive processing power and relatively low cost profile of IT allows the different control applications to be run on dual redundant hot-standby servers and transmitted over dual routed highly resilient digital Cat 5/6 networks, at speeds measured in multiple gigabits. Most importantly it means that every IP connectivity point on the network is multi purpose — so that it can be used to connect data, image or voice to providing the flexibility and scalable change management required in 21st century buildings. The principles of structured IT and communications cabling can be applied to building systems world, so the same RJ45 point can be used to connect a camera, telephone or security device such as a PIR detector, door controller, temperature sensor etc. The flexibility and benefits that arise allow dedicated building-management systems in their own right to be a thing of the past — and with it all the attendant costs of outstations, software, networks, containment and the like, to say nothing of the multitude of different complex separate man-machine interfaces with their onerous demands for staff training and maintenance. As I hope can be seen, all the above equates to the technology of building-management systems being an expensive way getting information to somewhere where processors and/or people want to use it.
Silos of technology
Not everyone will be happy, simply because in the world of systems designs and procurement the 'technology silo' model has reigned supreme. It is a model that is familiar and comfortable to those that manufacture and supply the technology, It is also a model which design consultants feel comfortable with. It is also a model which suits those that procure and those that install, commission and maintain. The only people that the 'technology silo' model does not suit and benefit are those that have to pay the higher capital cost bills that come with it and who have to manage the separate 'technology silos' and pay the unnecessarily high maintenance and staffing costs. However, the cynic in me feels that if these clients are happy to continue to pay over the odds for loads of complex and unnecessary technology, the supply side will, of course, continue to supply it all. Imagine a world of non-proprietary systems, where all IP sensors and devices can communicate, with all monitoring and control applications running on standard high powered servers, utilising a dual-routed high-speed open digital data communications network.
Componentised and commoditised
Breaking down the silos and componentising all of the systems drives a lot of costs out of the individual systems packages. Manufacturers and suppliers are asked to supply components rather than systems, which can mean less value attaching to their orders. Equally, those contractors that install the traditional separate dedicated networks find that their work-load is reduced, especially if they are not qualified to supply Ethernet Cat 5e/6 networks. Instead of a dedicated man machine interface for each silo, there is a single user interface which can be operated from anywhere over the Internet. Just imagine how uncomplicated a control room could be and how much easier it could be for a security guard or other human being to operate these integrated systems.
The rise and fall of the BMS
The rise of the BMS occurred in response to the need and desire to remotely control plant and equipment and was predicated on using the monitoring and control technologies available at the time — before the advent of high powered IT Cat 5+ networks and intranet/Internet networks. I believe the fall will accelerate as a result of the ubiquity, power and cost effectiveness of information technologies and their ability to handle data, image and voice on the same network — utilising ever-increasing bandwidth and ever increasing speed. While BMS technologies may be on the decline, the opportunities that these changes present to clients, designers, contractors and maintainers are unparalleled.
Mike Williams is managing director of CDC Central Data Control Ltd.
Related links: