Bringing facilities-management expertise into the design loop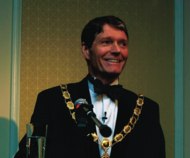 The benefits of a partnership between facilities managers and building-services specialists has never been more valuable than it is today, says HVCA president Mike McCloskey.Legislative and commercial pressures on building operators are tougher than ever. By 2009 all buildings will have to display energy performance certificates when they are bought, sold or rented out. The current hiatus over Home Information Packs does not change the fact that energy certificates remain a legal requirement for the UK Government under the Energy Performance of Buildings Directive (EPBD) and, therefore, must be introduced by one mechanism or another. In the public sector, the process has already begun, and as of April 2008 all Government offices, public libraries, art galleries and the like will have to have their energy certificates on prominent display. A year later privately owned commercial buildings will follow suit.
These certificates will display both operational and asset ratings so, for the first time, building owners will be obliged to record how well their building is performing against its energy targets — putting the spotlight firmly on the relationship between facilities managers (FMs) and building-services engineers. A much higher level of collaboration than currently exists will be crucial to the successful management of lifecycle energy consumption. Over 70% of the buildings we will be using in 2050 have already been built. By that year, we are supposed to have reduced our carbon emissions by 60%. Facilities managers and building-services engineers must get their heads together to focus on existing buildings. According to the DTI, heating accounts for 40% of the UK's total annual carbon emissions of 150 Mt. This year's Energy White Paper 'Meeting the energy challenge' identified this as an area of real concern for a country that is facing a crisis in security of energy supply; we are on course to be importing 80% of our fossil fuels by 2020. The White Paper calls for new product standards, a mandatory carbon cap and trade scheme and the widespread introduction of 'smart meters' to help householders and commercial users measure their energy use. However, by the DTI's own admission, if everything planned in the White Paper was adopted they would still only deliver an improvement in carbon emissions of between 26 and 33%, based on 1990 levels, by 2020. We have to go much further and faster than that.
Quick wins
Services teams have a big opportunity to deliver some quick wins that will show clients what can be achieved in terms of reducing their carbon footprint and their energy bills. A full commissioning check is always a good place to start, but is rarely considered a priority by clients. It often reveals that equipment was never actually commissioned in the first place.
The commissioning check can be followed by relatively quick and cheap measures such as upgrading heating plant and controls, switching to low-energy light bulbs and improving air-leakage rates from the building fabric. Only then should you start to think about more ambitious steps such as renewables. An ongoing maintenance regime with continuous re-commissioning will cut energy and can also help to reduce illness and absenteeism. The impact of allergies and respiratory illnesses has increased dramatically in recent years and is often linked to poorly maintained ventilation systems and inadequate cleaning regimes. Growing awareness about climate change and energy efficiency means specialists have a new opportunity to sell the benefits of their expertise to clients previously reluctant to invest in such non-core activities. The on-going partnership between the service and facilities group of the Heating & Ventilating Contractors' Association (HVCA) and the British Institute of Facilities Management (BIFM) recognises this changing business climate for our members and seeks to ensure we are well placed to take advantage.
Collaborate
The two bodies have been working together to develop and promote best practice in FM; to give each other's members increased access to technical publications, training and other sources of information; and to collaborate on research, standards development, accreditation and assessment schemes, qualifications and continuous professional development. This collaboration between contractors and facilities managers also reflects the need for designers of both new build and refurbishment projects to make a co-ordinated assessment of the energy performance of the architecture, the building façade and the heating, cooling and electrical services in conjunction with the FM. This means design teams will have to be properly integrated from the start and energy performance goals set out at the planning application stage. This is definitely new territory for many clients, but more are now actively seeking longer-term relationships with their FM and building-services suppliers as a result. One-year contracts have become three-year tie-ups and three-year deals are also being extended to five. This continuity gives the industry a much better opportunity to deliver high-quality services because individual engineers can acquire in-depth knowledge of particular buildings and grow relationships with the on-site teams. More buildings also require specialist support on tap. Hospital systems, for example, are by definition critical and must be kept on stream at all times. Big financial institutions want contractors on site all the time to make sure nothing happens to disrupt their moneymaking activities. All these factors mean that specialist FM support has a growing financial value. Providing technically competent people, who can diagnose and cure problems on the spot without taking their eye off safety requirements, backed up by a 24/7 infrastructure and heavy insurance cover, is a significant investment for a building-services firm — and has to be reflected in more generous professional fees. Our expertise carries a greater value than ever thanks to the growing importance of energy and sustainable design and we should not be ashamed to price it accordingly.
Mike McCloskey is president of the Heating & Ventilating Contractors' Association.
Related links: