Letting the benefits of off-site manufacture drive a project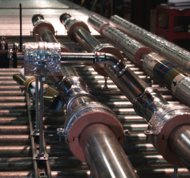 Cal Bailey shares his hard experience of the benefits of off-site manufacture — especially for pipework.The construction industry is booming — but such success, in such a fast-paced environment, means the industry has to pick up its pace and move with the times. We need to apply innovative, sustainable, modern working methods to build on the UK's worldwide reputation in construction.
Innovative techniques
Modern methods encompass many innovative techniques, but the one with the strongest ability to change the shape of the built environment is off-site manufacture — a process that not only provides clients with guaranteed quality, but also just-in-time delivery and reduced environmental impact. NG Bailey wholeheartedly believes in the benefits that off-site methods can bring — So much so that last year we invested £5 million in a new prefabrication facility, giving us the opportunity to lead the way in this field and educate our customers and peers on a technique to which there is still resistance. One element of off-site manufacturing enables the delivery of pre-prepared pipework to a site to the exact specification set out in the initial design phase. Architects and main contractors are now starting to realise the benefits of involving building-services providers at the up-front stage. Integrating the various elements of constructing a building from inception forces the design to be frozen and the project to run as planned.
More sustainable
Producing prefabricated pipework is also more sustainable compared to the traditional on-site method. 70% less waste is created off-site, total miles travelled is 80% and there is a 90% reduction in site labour. Off-site manufacture is also more efficient due to the production line in the factory —which would not exist on-site. Quality control is significantly improved, resulting in fewer site leaks and consequential damage. These advantages, coupled with fewer accidents, give immense benefits to workers, project managers, following trades and the customer. At NG Bailey we run our off-site facility using an enterprise resource planning system — or, rather, it runs us! This cutting edge IT system schedules factory requirements, looking at the materials needed for the work in progress, including workforce levels, the financials and procurement. The system drives the methodology of manufacturing and is so accurate that the facility is driven by its guidance. Manufacturing pipework off-site allows the product to be fully quality checked before it is distributed. All our products are air tested — giving our clients, and indeed their clients, quality assurance before the pipework is installed on-site. We are also constantly talking to and working with our suppliers to ensure we are using the best valve sets. For example, on a recent project our technical engineers found a valve set that could be less complex. Indeed the complexity allowed for a risk of leakage once installed. As a result the design has now been changed. Our expertise in this area is backed by the work we are currently carrying out at Bailey Off-Site. Work is underway on our biggest contract — the £120 million St Helens PFI project, which involves £20 million-worth of prefabrication. The job includes manufacturing 1600 heavy-duty corridor modules for the hospital's duct work, pipework, medical gasses and electrical containment. We will also be building 2000 lighter-duty modules for the wards and rooms in the hospitals. Laid end to end, this enormous number of prefabricated elements would stretch for 40 km.
Best practice
At NG Bailey we pride ourselves on our off-site expertise and realise that off-site manufacture, including the prefabrication of pipework, is an example of best practice in the construction industry, bringing construction and manufacturing specialists together to give more credibility to the work that we do. The burning question is, when will off-site manufacturing become commonplace in the UK construction industry? Watch this space!
Cal Bailey is business-development director with NG Bailey.
Related links: