Honeywell enables the ultimate in teamwork at Wembley Stadium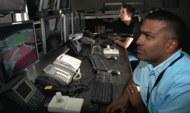 The new Wembley Stadium is more than just a 90 000-seat venue. It is a huge building complex with a vast range of services that can interact with one another through the intelligent building system that has been installed.If you unwound the new Wembley Stadium from around the pitch and its 90 000 seats, the result would be a building a kilometre long varying in height between five and six storeys. Even when it is not hosting a major sporting or entertainment event, Wembley Stadium is a significant venue for conferencing and banqueting — with catering facilities to match. The stadium has four of the largest restaurants in London, along with the capital's biggest banqueting suite, so it is akin to a mini city. One kitchen is a third the size of the pitch, and 10 000 sit-down meals can be provided at once. Another indicator of the scale of the stadium is its 2618 toilets – more than any other building in the world. Its plethora of services include HVAC, BMS, fire and security (comprising access, CCTV and public-address system), lifts, escalators, scoreboards and large-format video, wireless networking, Internet access for the Press and integration with business systems — including EPOS (electronic point of sale).
Intelligent building
For the stadium to operate effectively at all times, especially during major events, all these services must be integrated rather than operate as separate systems. Wembley Stadium is therefore an intelligent building. It is also, according to Peter Orr, business-development director for networks with Honeywell Building Solutions, probably the most technically advanced stadium in the world. puts photo on left in next paragraph
The key to integrating all the services is the IT network platform, which was designed and installed by Honeywell. The network required 1617 km of cabling — comprising 753 km of fibre backbone, 234 km of broadcast cable and 630 km of horizontal structured and fire-rated cabling. — to support resilient backbones and IP communication with the necessary bandwidth for all operational modes of the stadium. This IT network links 72 communication rooms housing network switches, which provide 7500 network points and 3500 devices on the network. As well as facilitating IP data, voice and video communications, this converged technology enhances opportunities for EPOS (electronic point of sale) income generation, now and in the future. The network also facilitates the linking of stadium operations to its parent organisation, the Internet and, via a second control room, to the London Metropolitan Police and other emergency authorities. Once the IT network had been installed, Honeywell Building Solutions (HBS), as main mechanical and electrical contractor, designed, installed and commissioned the stadium's core automation controls — incorporating systems for heating, ventilation, air conditioning, lighting, lifts and escalators, telephones, fire alarm, public address/voice announcement, CCTV, access control, turnstiles and people/asset management. HBS also masterminded implementation of the large-format video, master aerial television, broadcast systems, wireless networking, Press Internet access and integration with the stadium's business systems — including supply chain and the human-resources database.
Comprehensive integration
The benefits of such comprehensive integration are summarised by Peter Warren, Wembley Stadium's IT and business-process director: 'Pulling the different technical systems together into one integrated solution centralises data and enables our stadium operators to make sense of a lot of information — and quickly. Practically, they can access the entire system via a PC screen and manage all of the technical services in the stadium from a small number of work stations located in critical locations such as the event, security and police control rooms. 'IP convergence lifts the system's intelligence higher still. It enables us to enhance customer service, link to EPOS and leverage new revenue-generating opportunities — now and in the future.'puts photo on left in next paragraph
All the different applications have been pulled together by Honeywell's integration experience into one common operating platform using Honeywell's Enterprise Buildings Integrator (EBI), which is accessed from PCs in the event, security and police control rooms. The EBIs provide day-to-day control of all the stadium technical operations and are linked to a bespoke stadium control systems, also designed by HBS. They govern 192 building-management systems that monitor and control 6000 heating, lighting, ventilation and air-conditioning devices. The security system manages digital video images from 190 CCTV cameras — including inputs from cameras outside the stadium owned and operated by the police. It also monitors and controls access through all doors and turnstiles, as well as lifts and escalators. Crowd messaging is relayed via the digital public address/voice announcement system and large-format video screens. The fire-alarm system secures communication throughout the stadium in the event of a fire. It includes 80 emergency telephones for stewards, linked via a dedicated fire-rated cable network.
Resident engineers
Honeywell has resident engineers permanently on site. The number more than doubles to provide operational support services on event days. The Honeywell service includes the daily 'at-ease' routine and checking all technical services for which Honeywell is responsible — before and during every stadium event. Peter Warren says, 'Honeywell was tasked with creating an intelligent and interoperable stadium control solution that is flexible enough to support permanent stadium occupancy of 400 people and rise to the challenge of a major event, including the arrival of 90 000 people. The IT maintenance and operational services support teams also have to oversee our widely varying day-to-day requirements. 'Integrating all our technical system on one common network allows our operators to make sense of a lot of information — and quickly. It also allows us to deliver a measurable return on investment. It enables us to deliver savings in capital and operating costs, validate for regulatory compliance, set new standards in respect of customer service and EPOS incoming-generating opportunities — all in the context of a safe, secure, comfortable and energy-efficient stadium.'
Related links: