Multi-service chilled beams enhance refurbishment opportunities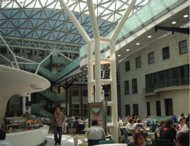 Multi-service chilled beams remove the need for suspended ceilings, resulting in greater room height and more usable space. But their benefits in refurbishment projects don't stop there, as Terry Farthing explains.Why construct a new building when you can refurbish a 1960s structure more cheaply, to a higher standard, and with significant savings in terms of carbon? It's a no-brainer — not only does refurbishment offer significantly lower capital costs, but it is also kinder to the planet, and the developer can bring a refurbished building to market much more quickly than a new build property. This, in turn, leads to significant savings in financing costs and time, and increases the rent yield because the building is available for let more quickly.
Questions
These benefits beg an obvious question. Why don't more landlords see the value of refurbishing their properties rather than building new ones? The reason is simple. Until recently, there were no solutions to the space problem in refurbished buildings — in other words the floor to soffit height. Buildings erected in the 1960s were, of course, built to accommodate the IT cabling and air-conditioning systems around at that time. Now, with major advances in IT, more space is needed for cabling. Hence, landlords tend to opt for new (and therefore normally more spacious) buildings. However, multi-service chilled beams (MSCBs) — air-conditioning units that can incorporate other services such as heating, lighting, PA systems, fire alarms, smoke detectors and CCTV — solve the space problem because they can be fitted directly to the soffit and left exposed, so there is no need for a false ceiling. This, in turn, means that the floor slab to soffit height is sufficient, even in refurbished buildings. Trox, for example, has supplied MSCBs successfully down to 2.8 m high, which allows a 100 mm false floor and no false ceiling since the beams are fixed to the soffit and exposed.
Energy
But the benefits do not stop there. There is also the energy issue (covered in Part L2 of the Building Regulations). MSCBs require less energy than other terminal air-conditioning systems such as fan-coil units since they have no terminal fans and they use higher temperature chilled water, giving a significant increase in opportunities for free cooling. puts photo on left in next paragraph
There is also the question of 'whole-life cost' of the air-conditioning system, particularly maintenance issues. With chilled beams, there are no fans or motors, no filters, no condensate pumps or drains, no moving parts and no consumable parts. Therefore, they only need to be inspected once every four years and, even then, the most maintenance they will need is vacuum cleaning the easily accessible coil. Some landlords are put off refurbished buildings because they believe it is impossible to create a sufficiently modern interior in an older structure. In fact, one of the biggest advantages of MSCBs is their looks. They can be architecturally designed and offer a futuristic appearance.
Successful projects
There is a growing number of projects involving successfully refurbished buildings that contain high-tech equipment. For example, the £90 million phased refurbishment of the headquarters of insurance giant Norwich Union in Norwich features a range of chilled beams. This project, which has a total value to Trox over four phases of the project of £3.5 million, embraces seven existing Norwich Union buildings — including the Grade 1 listed Surrey House originally built in the early 1900s. It includes the provision of active multi service chilled beams incorporating speakers, PIR detectors and lights, each element of which was factory fitted. The redevelopment of Norwich Union's headquarters is due for completion by the end of 2007 and will create 37 000 m2 of office space. In another contract for a financial institution, Trox is supplying special high-induction MSCBs for Royal Bank of Scotland buildings in a contract worth more than £3 million. To form the complete MSCB, the high-induction beam engine was fitted into a prefabricated, architecturally designed raft made from extruded aluminium which contains all the mechanical and electrical components that would normally go into the ceiling — including lighting, control valves/actuators and pipework. This 'production, not construction' approach used in the manufacture of MSCBs offers a range of benefits, including a shorter production cycle, fewer trades on site, higher quality, and better safety. Importantly, it has also delivered programme and cost certainty for the client. These, and other, projects prove that landlords are waking up to the benefits of MSCBs in refurbishment projects. Indeed, our turnover on MSCBs has more than trebled in the last three years, offering compelling evidence that the industry is starting to recognise the space-saving and other benefits of chilled beam technology.
Summary
As well as saving space and reducing the need for maintenance, MSCBs also offer several other benefits. • They are prefabricated in the quality-controlled environment of the factory, reducing time spent on site, with all the safety, timesaving, and cost implications that this involves. Off-site prefabrication also enables the co-ordination of fit-out services.
• Can reduce programme times by 40%.
• Are bespoke designed, allowing the architect to be fully involved in how the beam looks.
• Cost a third less than fan-coil systems over the life of the building.
• Have no moving parts, eliminating the audible hum associated with conventional air conditioning units.
Terry Farthing is head of communications with Trox UK.
Related links: