On a mission to save energy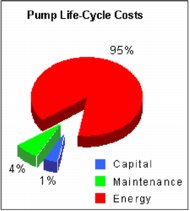 Lee Tebbatt explains how variable-speed pumps very quickly repay their extra capital cost in vastly reduced running costs.As the race heats up to meet Government targets for energy-efficiency levels in buildings, contractors find themselves faced with ever-increasing demands to find the best solution for saving both money and energy. Understanding the role that pumps and pumpsets have to play is crucial, as selecting the right combination can ease pressure on the purse strings and the impact that a whole system has on the environment.
Environment
All new commercial buildings have to meet an appropriate SBEM (Simplified Building Energy Model) rating to obtain planning permission. In fact, for developers to achieve planning permission they must demonstrate a consideration for the environment in their building plans. SBEM ratings were created as a measurement for commercial buildings to comply with Part L legislation. While this energy-efficiency drive has done much to make developers and building owners think about the impact they have on the environment, actually knowing which component parts of a building's systems can generate energy cost savings requires some education.
This learning curve may be undertaken by the developer or building owner, or it may be something that is passed down to the contractor. Contractors therefore need to stay ahead of the game —not only to meet the demands placed upon them but also to win the business in the first place. They need to be able to differentiate themselves from the competition, and that means being up to speed on legislation and knowing where to find the latest information on product design, reliable technical advice and after-sales support. Taking a pump as an example of a component part of a building system — this can have a surprising effect on the energy efficiency of a building, which is frequently misunderstood. All too often specifiers look only at the more obvious costs — initial capital outlay, ongoing maintenance and, perhaps, end-of-life disposal costs, but overlook energy consumption. This is a crucial mistake as over the life cycle of a pump, the cost of energy can far exceed other costs.
Strategic approach
Consideration of life-cycle-costing is an example of taking a more strategic approach to pump specification. The message is getting through that variable-speed pumps are the way forward for most building systems and are a prime example of how life-cycle-costing analysis works. Variable-speed pumps use invertor technology to changes the frequency of the electricity supply to the motor. By following the pump affinity laws, a 20% reduction in speed reduces electrical consumption by 50%, and a 50% reduction in speed will give an electrical saving of 87.5%! A real-life example is provided by Newnham College of Further Education. The original fixed-speed pumps ran up an annual electricity bill of £1125. When they were replaced with 5.5 kW variable speed Grundfos TPE pumps, the electricity bill was reduced to £540 per year — a 48% saving. Over a typical 20 year life, the predicted energy savings for this system add up to almost £12 000 against the previous fixed-speed option. These figures provide quite startling evidence of the potential energy savings of variable-speed pumps, but are they really that practical for such a wide range of building systems? The key consideration is wastage. For example, many buildings do not need their heating on full 24 hours a day, seven days a week. Using a fixed-speed pump means that for a large proportion of the day, typically 12 hours or more, the heating water is being pumped round a system at full load and is therefore wasting energy and money. If a variable-speed pump were used, pressure and flow levels can be set as required, moving the pump duty up or down as the needs of the building demand; energy wastage is minimised, as are the ongoing financial costs.
Enhanced Capital Allowances
Taking this discussion a step further, one of the initiatives introduced by the Government to encourage end users to be more energy efficient, is the Enhanced Capital Allowances scheme. Set up to encourage UK businesses to reduce carbon emissions which contribute to climate change, the scheme rewards investment in energy saving equipment by providing tax relief on the procurement and installation of products which are approved on the Energy Technology List (ETL). Admittedly this doesn't have a direct impact on the contractor — unless they have the opportunity to specify or make recommendations for ETL products. However, installing such pumps provides a significant opportunity to enhance their relationship with the client and promote an environmentally conscious image.
Earlier this year, we successfully registered our BOSS KVCX range of boosters on the ETL. This versatile range of light-commercial cold-water pressure-booster sets, suitable for use as a component part in many pump systems, especially in today's market where customer requirements for water pressure is ever growing and mains water pressure falling. It is proving to be extremely popular and cost effective product. To conclude, the demands of every system are unique. Building owners need to respond to legislation and to financial constraints — but the key is in understanding the bigger picture and appreciating the life-cycle costs of a system. Building owners need to know where to go for the right advice to equip themselves with the knowledge on how make systems run as efficiently and effectively as they can.
Lee Tebbatt is the National Sales Manager for AMS Pumps, a specialist brand within BSS.
Related links: