Countering the fire risk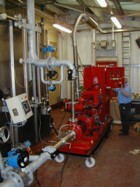 It is over 60 years since a death was recorded in the UK in a building with a working sprinkler system. Glynn Williams cuts through the complexities of using pumps to protect against the risk of fire.With the complexity that surrounds packaged fire set solutions, it is unsurprising that there is a little hesitance on the part of consultant engineers to get involved with too many aspects involved with specifying fire sprinkler systems. However, the fact remains that in Britain each year there are over 60 000 fires, and they are responsible for 600 deaths and 10 000 serious injuries. The recent fire at The Penhallow Hotel in Newquay was a stark reminder of the speed and ferocity of fire and sadly demonstrates what can happen when a blaze breaks out in a building with inadequate fire protection. Fire statistics clearly show that people in buildings of multiple occupancy are eight times more likely to be killed or injured than those in a single-family dwelling. Indeed a report published by the National Fire Protection Association highlights two major benefits of installing sprinklers. • The chances of dying in a fire are reduced by 50% to 75%.
• Property loss is reduced by 50% to 66%. There have been no recorded deaths in the UK since 1945 in a building with a working sprinkler system.
Sprinkler systems
A basic sprinkler system consists of a set of main control valves and a pipe array with sprinkler heads fitted at specified locations that will operate only if a predetermined temperature is reached. The flow of water through the alarm valve initiates the alarm, and only sprinklers in the vicinity of the fire will operate.
In commercial properties, the type of fire solution is predetermined on the future use of each particular building and translates into a Hazard Class. The Hazard Class is decided upon by the occupancy and fire load of the premises, as outlined below. Light Hazard (LH) is signified by occupancies with low fire loads and low combustibility and no single compartment greater than 126 m2 with a fire resistance of at least 30 minutes. This classification typically covers schools, offices and prisons. Ordinary Hazard (OH) is signified by occupancies where combustible materials with a medium fire load and medium combustibility are processed or manufactured. The OH group is divided into four sub-groups. Examples of the type of applications that fall into each of the four categories are summarised below. • OH1: hospitals, libraries, hotels, restaurants and dairies.
• OH2: bakeries, breweries, laboratories, museums and car parks.
• OH3: electronics factories, railway stations, broadcasting studios, department stores/ shopping centres and printing works.
• OH4: cinemas and theatres, exhibition halls and waste paper processing. High Hazard (HH) occupancies include situations where the materials concerned have a high fire load and high combustibility and are capable of developing a quickly spreading or intense fire. This classification is subdivided into High Hazard Process (HHP) and High Hazard Storage (HHS). Both classes are further divided into four sub-groups. The vast majority of projects within standard commercial buildings will require either an LH or OH system. Grundfos entered the fire-protection market in 2001 and supplies a wide range of fire equipment. Pumps sets are designed and built in accordance with BS 5306 Parts 1 and 2, BS EN12845, BS9251 and NFPA20, and all carry third-party accreditations as required (LPCB, UL and FM).
Finding the right solution
Basic protection is provided by FireSAFE (Safe Active Fire Equipment), specifically designed for use in residential/light commercial applications.
There is a wide range of approaches to meeting the requirements of the Loss Prevention Certification Board. • Ordinary Hazard fire-protection pumps and controllers in both electric and diesel variants.
• End-suction and split-case High Hazard in both diesel and electric options.
• Hydrants and wet-riser sets that are fully compliant with BS 5306 Part 1. Such units can be tailored to meet existing site conditions for retro-fit purposes.
• The Grundfos hose reel, which is a fully automatic self-contained unit that meets the higher flow rates required by some regional fire brigades. All such units are can be incorporated into packaged plant rooms. To help make the best choice, Grundfos offers a range of selection tools, including a CD Rom, and also offers free training courses. It would be wonderful to live in a society where fire deaths were a thing of the past. With the installation of the correct sprinkler system, this vision would be a step closer.
Glynn Williams is director of sales for commercial building services with Grundfos Pumps.
Related links: