Enjoying the value of air conditioning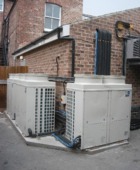 Whether an installer is specifying a new or replacement air-conditioning system, it is important to embrace the concept of whole-life costs by educating the end-user on the key benefits. Simon Keel outlines what end-users need to know from installers so they can release the real value of their equipment.The greatest concern for most end-users when looking at an air-conditioning system for their premises is purchase price. This concern is leading to many installers being requested to keep capital costs low to provide customers with the best return on investment in the short term. However, the capital outlay of the equipment is distracting end-users from the impact that whole-life costs and best overall value can have on the profitability and productivity of their business. A system's overall efficiency, running costs and servicing and maintenance have more influence on how much an air-conditioning system will ultimately cost. It is therefore vitally important that installers communicate these issues to customers to enable them to make an informed choice. Essentially, whole-life costs for air-conditioning equipment are the costs incurred by running equipment throughout its lifetime. These can be divided into two sections. • Financial costs such as initial purchase price, annual energy bills and service and maintenance charges.
• Hidden costs such as downtime, staff performance, customer comfort and, perhaps the most important, the cost to our climate.
Installers also need to make end-users aware of Government legislation that has been introduced on commercial and industrial buildings to address climate change issues and reduce carbon emissions. Part L2A (new buildings) and L2B (refurbishments) of the Building Regulations and the Energy Performance of Buildings Directive (EPBD) set a minimum standard to which buildings must adhere, addressing total carbon emissions in order to stem the impact of global warming. Whilst building-services consultants will understand the impact of this legislation, there is still of lack of knowledge among end-users on what they need to do to comply. It is therefore vitally important that installers guide them through this process — ensuring that more energy efficient materials and plant, such as air-conditioning systems, are specified and the key benefits of this technology are understood. Looking beyond purchase price, a key driver for installing air-conditioning equipment that installers need to get across to end users are the benefits a system will have on customers and staff. Air conditioning is designed to create a comfortable internal environment, producing a fresh-feeling indoor climate which is warm in the winter and cool in the summer — with the minimum of draught and noise. Control, effectiveness and quiet trouble-free running are essential to achieve the customer comfort and staff productivity that is the main objective of having the installation. The second driver is saving energy. For example, the running costs of air conditioning are not as high as some end-users would first expect. Typically, a Daikin 3 kW inverter-driven heat-pump system in a 30 m2 office might cost about £3.58 per week. Using a heat pump for heating could consume less than a third of the energy of a radiator system, with a more even and controllable temperature.
Thirdly, it is essential installers communicate the importance of a planned-maintenance contract. This is essential to ensure a system operates at maximum efficiency all the time. Coupled with the right initial choice of a well proven machine, planned maintenance will ensure longevity and avoid the expense of premature replacement. It also offers installers a long-term profit opportunity. Overall, with installers adapting the whole-life cost approach and concentrating on a range of issues that may impact on their customers' profitability and productivity, the reward for the end-user will be a more energy-efficient and well maintained system, which effectively controls the internal environment and improves customer comfort and staff productivity. Such an approach will also build end-user trust that their installer is competent and confident in commissioning and installing an air-conditioning system that will offer maximum return for their business.
Simon Keel is with Daikin Airconditioning UK Ltd.
Related links: