Steps to a better BMS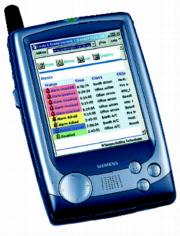 Don't take it for granted that your building management system is saving energy. A little extra attention will help it fulfil its potential, says STEVE LOUGHNEY of Siemens Building Technologies.Why do building tenants and operators install building management systems? Any BMS supplier will list the benefits: significant reductions in energy bills, improved comfort for staff, more effective operation of building services plant and an ability to monitor and collect building performance data for analysis. For most companies, saving energy is the most important of the benefits, and the need to save energy has never been greater. In April 2001, the Climate Change Levy added up to 15% to companies' energy bills, a jump that has not gone unnoticed in many boardrooms. Also, energy prices in the UK have been at an all-time low in recent years. Today, prices are levelling off, and there is more emphasis on monitoring energy use and cutting consumption than on trying to secure ever-lower tariffs from suppliers. On the regulatory front, Part L2 of the Building Regulations, which came into effect in April last year, covers air conditioning and mechanical ventilation for the first time — and demands that building owners or occupiers can account for at least 90% of their energy use. And on the horizon is the European Union's 'Energy in buildings directive', which will compel the Government to set minimum energy-performance requirements for new and existing buildings. A BMS can help building owners and occupiers rise to all of these challenges. Used properly, it will monitor energy use, actively report problems, and store important energy-consumption and environmental data. By analysing that data, building managers can identify faults or trends in the operation of their building services plant. Sadly, many systems are not configured with energy logging and reporting enabled, an indication of the low priority given to energy saving when they were installed and commissioned. In many cases, the BMS may not even be connected to the utility meters in a building. So how do building managers ensure that their building management systems are used to the fullest extent?
Think BMS from the start
If the BMS in your building was not considered at the design stage, it may not be effective, and its running costs may exceed any savings from energy efficiency. If, however, the building was designed with the BMS in mind, the return on the initial investment will have started immediately because energy was saved from day one.
Conduct an energy audit
An energy audit will establish the savings that are possible with the BMS, and those that can be accomplished with other energy-saving measures. Siemens Building Technologies, for example, is currently working with a retail company that owns over 600 stores in the UK. An audit revealed potential energy savings worth £3000 to £4000 a year — for each store. To make these savings the company did not require any major outlay, just adoption of the control philosophy. Alternatively, if you already have detailed energy consumption data for your building, you can compare it with published benchmarks for similar buildings. It is common for companies to see significant savings on their energy bills four to six months after following an auditor's recommendations.
Check installation and commissioning
The energy-saving performance of your BMS may have been compromised during installation and commissioning. Installation problems can be as simple as the positioning of a sensor in the warm air above a photocopier, triggering the air conditioning unnecessarily, or as complex as having no connection to utility meters. Meters must be connected to the BMS. An energy bill from your utility might tell you how much energy you have used, but only data logged by the BMS will tell you when and where it was used. This information will help you identify problems such as energy use outside working hours. It is quite common to find building services plant such as air-handling units running 24 hours a day in buildings that are only occupied from 9 a.m. to 5 p.m. Commissioning a BMS takes place in the final phase of a building project, and commissioning engineers are often working against the clock. Earlier project delays and shortages of skilled staff pile on the pressure. Commissioning engineers can mitigate these pressures by completing some of their work, such as configuring software, off site, or by extending commissioning until after the building is occupied, but the control system may not perform as well as it should, and it may be poorly documented. Review the control setpoints. It is vital to check that the controls will work correctly when the building is occupied (not just during commissioning) and at different times of the year. A BMS commissioned in the summer, for instance, should be checked in the winter. By exploiting the BMS and its communications abilities, building managers can quickly make adjustments that will keep the building's occupants comfortable while saving energy. Ensure that the BMS and its controls are working. A faulty control sensor could, for example, force a heating valve fully open in the middle of summer, wasting energy on unnecessary heating and cooling. Also, if plant has been switched to manual operation, the full energy-saving benefits of a BMS cannot be realised. Once everything is working as it should, study the building-services plant and its controllers. Many HVAC controllers have a wealth of energy-saving features, but they may not have been enabled during installation and commissioning. Many buildings have extensions or outbuildings. If so, can the control equipment in the original building communicate with that in the extension? This is essential for effective energy management, and it makes sense to buy equipment from a manufacturer that has embraced open communications, which allow equipment from different manufacturers to exchange data using a common language, or protocol. Such protocols include Konnex, LonTalk and BACnet. An added advantage of adopting open protocols is that subsequent occupiers of the building will have a choice of control equipment suppliers.
Train the operators
A BMS can be operated at different levels: by a full time specialist, a maintenance technician or a security guard. However, to get the most from the system, specialist staff must have an in-depth knowledge of the software, and this is only possible through on- and off-site training courses. Like any software package, a BMS operator terminal can be operated with only a little in-depth knowledge, but an operator who is unaware of its advanced features will never coax the best out of a system. And remember that operating a BMS is not only about getting to grips with the software. Senior operators should have a detailed understanding of the building, not just the controls.
Operate and maintain the controls properly
The complex monitoring capabilities of a BMS are rarely fully exploited. A BMS can monitor and log data from many points, but do not monitor too many, or operators will be overwhelmed by the data. Choose the main sources of energy consumption, plant that is critical to the operation of the building and key indicators of the environmental conditions inside. Similarly, avoid swamping operators with relatively minor alarms that demand their attention by initiating set up alarms with different priorities. If a BMS is working properly, building-services plant will operate less frequently, increasing its useful life, reducing equipment failures and minimising the need for maintenance. Don't forget that the BMS itself needs maintenance too. Ensure that software upgrades are applied, and that logged data is archived for storage. Shortage of manpower, however, poses the toughest problem. In spite of the need for proper operation and maintenance, companies are under constant pressure to cut costs. Fewer people are available for building operation, and they are likely to work across several sites. Technology is coming to the rescue. With BMS hardware connected to the standard information-technology infrastructure, remote control and diagnostics have become an economic proposition for many companies. Today, a BMS can send alarm information to mobile phones and energy-consumption or building data to computers or personal digital assistants running standard web browsers. Mobile building managers can check up on their BMS regardless of their location and react more quickly to problems.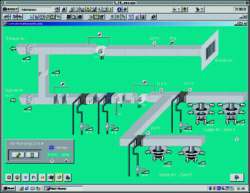 A building-management system can monitor and log data from many points, but do not monitor too many or operators will be overwhelmed by the data.
Companies with more than one site can monitor them all from a central point, making the most of their limited pools of staff. Siemens' eAdvantage EMC (energy monitoring and control), for example, makes it possible for local building managers to enter meter readings into any computer, PDA or mobile phone connected to the Internet. Once the data is received at the central application server, an energy-analysis program generates energy consumption reports that can be viewed on a password-protected web page. Rather than treating a BMS as an engineering tool, building managers should see it as a mechanism to help them control the capital outlay of their businesses. An effective BMS will not only save energy, but also improve the environment for the building's occupants.
Steve Loughney is with Siemens Building Technologies, Staines, Middx TW18 3AY.
Related links: