'Alternative' energy for air conditioning

With ever-increasing electrical loads in buildings putting a strain on the electricity supply, Graham Wright suggests a 'dash for gas' to power air-conditioning.Experts say that the rapid growth in electricity demand, in large part due to increased use of computers in cities, is placing a huge strain on the UK's aging electrical infrastructure. Furthermore, when the power needs of the coming 2012 Olympic Games are factored in, we are facing a situation where alternatives to electrically powered air-conditioned solutions must be investigated. The UK's ever increasing energy consumption means that the nation certainly needs to increase its supply. Consumption is about 6 MWh per person and rising. To keep up, some 25 to 30 GW of new capacity is planned over the next two decades. However, companies in busy urban areas are already facing serious power supply problems that could restrict their expansion plans, further impacting on an already gloomy economic outlook. The City of London alone has a power demand of 1 GW, forecast to rise by more than 75% within the next seven years. If the predicted increase in power consumption is not matched by production capacity, the UK's financial hub could be at risk of under achieving. In London's Docklands companies wishing to expand have been told there can be no new data centres due to the current demand for electricity and the projected demand from the 2012 Games. So, what is the solution? It could be a long wait before the Government acts and forces infrastructural improvement. How can companies keep essential areas cooled without adding to the ever-increasing demand for electrical power? Every operation must now be looked at in terms of increasing efficiency and reducing the demand for electricity. This is especially relevant for air conditioning which accounts for over 30% of a typical office's annual electricity consumption. With a gas heat pump (GHP) system, such as Sanyo's, the consumption of electrical power is kept to a minimum, with as low as 700 W possible. This means that GHP outdoor units require only a single-phase power supply to run auxiliary items such as controls and fans. GHP systems use gas as the fuel for an internal combustion engine with an open-drive compressor. They are powered by natural gas or LPG rather than the national grid, thus taking the pressure off an already fragile supply. In GHP development over the last few years, global manufacturers have been improving the efficiency of air-conditioning systems resulting in COPs rising from 2.8 to 4.0, and this trend will continue. Sanyo's GHP system, in particular, uses a Miller-cycle gas engine, which is derived from a car engine, and significantly reduces gas consumption, while boosting efficiency. Electric power consumption is significantly reduced by the use of a single-phase DC motor and DC fan. Heat-pump air conditioning eliminates the need for separate heating and cooling systems, with both actions carried out by one unit, resulting in a highly efficient indoor temperature control. Further efficiency is gained for the recovery and re-use of waste heat from combustion and there being no need for a defrost cycle. Engine waste heat, can also be used to produce domestic hot water.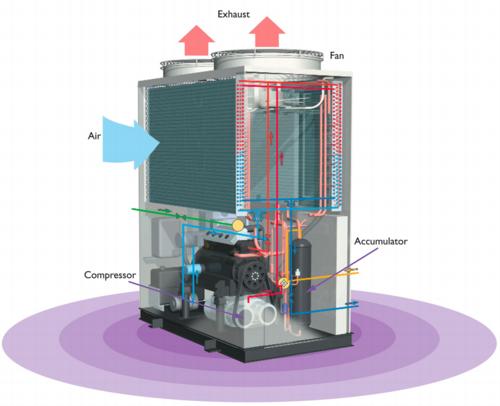 But what about generating electricity on-site? Buying stand-alone site generators is prohibitively expensive, and solar and other alternative power generation technology do not yet offer an affordable alternative for everyone, so modern GHP systems may have the answer. The future for Sanyo's GHP range is the ECO G Power gas-driven VRF air- conditioning system, to supply heating and cooling while co-generating hot water and electrical power. A permanent magnet, non-bearing type generator increases efficiency. A 4 kW generator provides enough power to run 40 indoor units or the equivalent of eight computers. Depending on air-conditioning load, 2 to 4 kW of electricity can be generated with an efficiency of more than 40%. An electricity output to a power inverter allows the power to be used on site or to be sent back to the grid, which helps ensure end-users do not exceed their power limitations and face penalties. With the UK electricity grid now feeling the strain from the growth in computer servers, the ECO G Power could be a solution for end-users who have reached their electrical power limitations and are looking for an alternative power source. Power supply problems are not a UK-centric problem. In Europe alone, 85% of companies with revenues over Eu1 billion have at least two data centres, adding massive pressures to their national power grid. In China, new tariffs are being considered to try to stem the effects of this power crunch. There are similar power issues in India, the United States and many other countries. There is no one quick-fit, easy solution to our energy problems. The National Grid will not be radically improved over­night. Meanwhile, companies need to do everything they can to help reduce strain — and the most up to date GHP technology can help.
Graham Wright is with Sanyo Airconditioners Europe.
Related links:
Related articles: