The challenge facing the commercial-boiler industry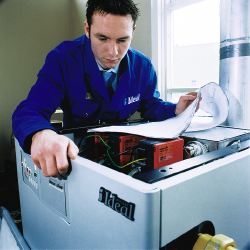 PAUL MASSEY is concerned that the commercial-boiler industry is being called on to convert to condensing-only technology too quickly and that the existing Part L2 consultation document overlooks vital issues.2005 is set to be a challenging year for commercial heating. The industry is already preparing for the introduction in early 2006 of the EU Directive for the Energy Performance of Buildings directive and is now taking on board further recommendations from Government regarding condensing boilers. To bring the commercial sector into line with changes to the domestic market, the Government is proposing to make condensing boilers obligatory for all new build and replacement work from January 2006.
Fully supportive
There are few in the industry — or, indeed, society — who will argue against measures to tackle climate change, and at Ideal we are fully supportive of the drive to reduce carbon-dioxide levels. The Government recently produced its consultation document proposing amendments to Part L2 of the Building Regulations, and it is clear that there is a strong desire to further reduce UK emissions through tighter energy-efficiency measures. The challenge is to turn this rhetoric into action to benefit all involved. Based on experience in the domestic sector, we understand the importance of working with Government. To work best, this relationship has to be a 2-way street. The Government must engage with industry to fully appreciate the issues in the commercial heating sector and the bottlenecks that must be overcome. Implementing new legislation cannot happen overnight, and this is well understood in the domestic-boiler sector. It has been working towards removing SEDBUK C and D products (standard efficiency) since April 2002 — a full three years' preparation for the move to condensing-only technology. Yet, according to current proposals, the commercial-boiler industry is being asked to move to condensing-only operation in only 12 months. This is a major regulatory change that will require time to prepare for, and the commercial industry should be offered the same terms as the domestic.
Seasonal efficiency
For the first time, the consultation document proposes a seasonal-efficiency calculation aimed at establishing a rating scheme for commercial boilers. The inclusion of this formula has rather taken the industry by surprise as, although well known, the approach was never considered to be robust enough for inclusion in the document. All commercial boilers currently manufactured are tested and approved by law to the Boiler Efficiency Directive, which establishes performance criteria against full load (100%) and part load (30%). These are well-established measurements that set performance levels from all boilers and are recognised across Europe as the preferred measurement criteria.
Differing targets
Any formula for seasonal efficiency should be based on the most robust data available. There are many different applications in the UK, all of which could have a marked impact on the performance of not only the boiler but also the system. A further area of concern is the plan to establish differing efficiency targets for new-build and replacement installations. It is planned that the new-build sector will be set an efficiency target of 80.8%, allowing all current boilers to be sold into this sector. However, the replacement sector — the larger market at about 70% of all sales — has been set a more stringent target of 84%. This approach could stall the replacement sector, as the cost of upgrading existing boiler plant will inevitably increase and drive clients to repair rather than replace old inefficient plant - resulting in increased carbon emissions. There are other measures to reduce carbon emissions that have been overlooked in the existing consultation document First, we need to establish a robust formula for seasonal efficiency that takes into account actual UK data such as degree-days, rate boiler performance in a similar way to SEDBUK and establish a time frame similar to the domestic market to allow the industry to move to condensing (high-efficiency) product in an agreed time frame —e.g. three years.
Oversized
Secondly, most commercial-boiler plants are oversized, which could ultimately result in any replacement boiler operating inefficiently. A means to address this is to establish heating-load assessment criteria for the replacement sector. This would ensure that the actual building load be calculated, resulting in boilers being accurately sized. Seasonal performance and efficiency would be improved by matching boiler output accurately to system requirements. Thirdly, substantial quantities of hot water are generated in commercial applications. Specific attention should be paid to carbon-producing equipment in this sector as this equipment is a significant contributor to carbon emissions.
Controls
Finally, system controls have once again been omitted from the consultation document, and this remains the most significant factor in reducing carbon emissions. A system that is controlled by even the simplest of devices can readily improve overall efficiency by at least 10%. These are just a small sample of issues that if considered would have a major impact on reducing carbon emissions. As a market leader in commercial heating, Ideal is committed to assisting the Government in achieving the targets that have been established in the Kyoto Protocol. Only with an open dialogue between Government and industry will effective measures be established and implemented. To work in isolation will only lead to potential confusion and ultimately a risk that targets will not be achieved.
Paul Massey is managing director of Ideal Boilers, PO Box 103, National Avenue, Hull, North Humberside HU5 4JN.
Related links: