Nuaire uses ABB VSDs with its fan range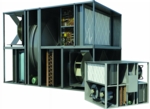 ABB has signed a deal to supply variable-speed drives for Nuaire's range of fans. These drives will form an integral part of Nuaire's Ecosmart control range, which links, fans, drives and condition sensors into a ventilation system that supplies air to meet real-time demand — saving money by cutting energy use.
The ABB drives enable Nuaire to customise the drive to the needs of individual customers. The handheld ABB FlashDrop tool can set parameter and copy configurations between drives, without even powering up the drive. Nuaire can offer a preprogrammed customised service on short lead times.
Related links:
Related articles: