Refurbishment has no thresholds

Major refurbishments can be completed three times more quickly than new build and achieve emissions similar to new build. Phil King discusses how refurbishment can play a key role in meeting Government targets for reducing carbon emissions.
In 2002, the EU made a bold step towards slashing greenhouse-gas emissions by introducing minimum requirements for the energy performance of buildings — in both new builds and existing buildings with a usable floor area above 1000 m² when undergoing a major renovation.
Fast forward to 2010, and the EU Energy Performance of Buildings Directive intends to abolish the 1000 m² threshold in existing buildings undergoing major renovation, a move that will open up valuable new opportunities for energy-efficient building refurbishment.
Currently, the industry needs stronger motivation (for that read incentivisation) to further reduce the emissions from existing building stock. Only 2% of our buildings are redeveloped each year, meaning that 98% of buildings are not being touched. Yet the opportunities for refurbishing existing buildings are enormous, particularly in the current economic climate.
Refurbishment is both cheaper and quicker than demolition and new build, with less associated risk in the ground. In many cases, the frame, foundations and even cladding can be reused, so the project has fewer embodied emissions than those inherent in any project that involves demolishing existing building stock.
This is important, because to achieve the Government's target of an 80% reduction in CO2 emissions by 2050, buildings undergoing major refurbishments in the near future will need to reduce their emissions to a level similar to those of new build. The good news is that refurbishment presents significant opportunities to make these reductions in emissions.
While most buildings are intended to have a 60 year life span, their original services are typically obsolete within 20 years. By modernising these building services, massive energy savings and emissions reductions can be made.
The potential savings will depend largely on the scale of the refurbishment project, which can vary from a 'lick of paint' at a typical cost of £500 to £600 per square metre, to a major refurbishment or complete strip back at a cost of around £1500 to £2000 per square metre.
A superficial refurbishment, which might involve updating the décor, light fittings, sanitary ware, lifts and lobbies, offers little scope for reducing energy and carbon emissions.
However, at the other end of the scale, a major refurbishment offers the rare opportunity to strip the building back to the frame, update the cladding and install completely new mechanical, electrical and public services — all of which can improve the overall sustainability of the building.
New cladding can deliver significant improvements to the building's acoustics, as well as its heating and cooling loads. Refurbishing the external envelope of the building also provides opportunities to change how the windows are operated. Whereas many older buildings do not allow windows to be opened and rely entirely on mechanical ventilation, modern buildings increasingly allow for mixed-mode operation, in which the air-conditioning system heats or cools the building depending on the weather conditions, but during moderate temperatures windows can be opened and the air-conditioning system automatically switched off.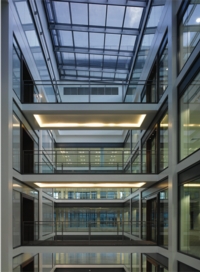 Internally, too, many simple but effective changes can be made. Even in smaller-scale refurbishments, the efficiency of lighting can be improved with energy-efficient lamps, luminaires and controls — delivering one of the shortest payback periods in terms of lower running costs, while still having a significant impact on reducing overall building emissions.
Older schemes from the 1960s and 1970s may have overhead air-conditioning systems in deep ceiling voids. However, modern air-conditioning systems can fit within much shallower voids, so retrofitting provides an opportunity to increase ceiling height. Similarly, floor space can be increased by removing low-level air-conditioning systems that were popular in the 1970s, but which required a perimeter void some 300 to 400 mm deep. Removing this void on all four sides of a room equates to a significant increase in lettable floor space. Refurbishing older cellular style offices also provides the opportunity to create more open-plan working areas, which offer greater potential for cross-flow natural (or mixed-mode) ventilation.
By installing the latest systems compliant with modern standards, building services can vastly improve energy-efficiency ratings and reduce associated carbon emissions, ensuring that energy performance is as good as new build. The Seasonal Energy Efficiency Rating of cooling plant is much higher now than in previous generations, while heat rejection from chillers offers many heat-recovery possibilities.
An intelligent approach to refurbishment could even open up new opportunities for exporting waste heat from offices to other developments in the locality, which would have previously relied on heat from burning fossil fuels.
Clearly, developers will need to compare the higher cost of major refurbishment with the projected reduction in running costs to complete a financial appraisal of whether refurbishment is more cost effective than new build.
However, the latest research document on refurbishment, entitled 'Can do refurbishment' and endorsed by the British Council for Offices suggests that refurbishment offers a lower development risk profile, quicker return on investment and improved rental and yield values for minimum capital investment — all within a programme timescale some 70% shorter than new build. So it seems that in terms of energy, time and cost savings, there are no thresholds to the benefits to be gained from refurbishment.
Phil King is a director with engineering consultancy Hilson Moran.
Related links:
Related articles: