Maintaining the pressure on energy efficiency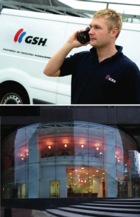 Reducing the maintenance budget for a building risks incurring more cost than is saved — especially when considerable returns can be achieve for small investments. Paul Cottam looks at the opportunities.
Energy efficiency has increasingly come to the fore as companies look to reduce costs, deal with fluctuating prices and meet challenging environmental objectives across their building portfolio. It is inevitable that the difficult economic climate has put added pressure on facilities managers to identify areas to save money, but simply slashing maintenance and refurbishment budgets can have a significant impact on a building's performance and energy usage.
It is perhaps understandable that companies may wish to concentrate on purely operation-critical maintenance and be tempted to cut costs in areas that are less business critical — such as planned equipment upgrades or refurbishment. However, by making energy efficiency a key consideration within the decision-making process for ongoing maintenance and refurbishment, companies can contribute to a sustainable operation that will actually save money, reduce carbon footprint and meet legislative compliance.
The biggest problem with cost reductions is the potential impact on service levels. If equipment and resources are not working at optimum levels, businesses face losing money through inefficient energy use and affecting the levels of service they provide to their own staff and customers.
By working closely with an FM partner it is possible to conduct a thorough review of a building portfolio to identify possible areas of improvement and energy waste. Equipment needs to be monitored to ensure it is operating efficiently and is in line with the requirements of the building and people working there. Furthermore, old or obsolete equipment that may be responsible for unnecessary energy consumption can be replaced or removed.
When businesses start to look at energy efficiency, it is possible to identify no-cost or low-cost initiatives that can be implemented with minimum levels of investment and provide immediate returns.
Optimisation is a typical no-cost strategy that simply requires technical knowledge and an understanding of operational requirements to ensure that a building's plant and equipment is operating holistically. What this means is that everything is set to operate collectively to achieve the necessary environmental requirements for lighting, air conditioning and heating at the optimum levels of energy efficiency.
Lighting in particular is an area where significant savings can be made but is often overlooked. It typically makes up 30 to 40% of a property's energy usage, so simply switching from old technology to new can have a major impact on energy consumption. For example, adopting T5 lights (a thin fluorescent lamp) over older, less-efficient standard T8 and T12 technology offers multiple benefits in terms of efficiency and maintenance.
Immediate savings of up to 20% can be achieved, which can rise to as much as 80% Increased lifespan can also minimise maintenance costs by reducing the frequency of relamp cycles. In addition, using sensors and dimmable technology can optimise a lighting system based on levels of occupancy and daylight to make further savings.
There are also ways of maintaining levels of investment without relying on a capex budget that may already be overstretched and too thinly spread. By making maintenance and refurbishment requirements part of a wider energy-management initiative, a company can work with its FM partner to achieve a mutually beneficial operation that can maintain levels of investment as part of an ongoing drive to achieve efficiencies and performance.
Building monitoring and controls technology can bring extremely effective results as well, managing the required levels of optimisation and ensuring the building continues to meet the needs of the business in the most efficient manner. This means that an operation better focuses on improving the efficiency of existing M&E plant and equipment rather than creating a need for new-build applications.
Technology solutions include 3D building modelling and simulation that perform dynamic thermal and energy simulations for properties, whilst energy management software allows the automatic monitoring and targeting of energy consumption. These tools make it possible to predict energy usage, CO2 emissions, operating costs and occupant comfort in order to understand where energy is being wasted in corporate, office and commercial buildings.
Failure to optimise a building as a result of ineffective maintenance and refurbishment will cause serious operational issues and ultimately become counter productive. Reduced investment may lower overheads in the short term, but it is likely to come at a cost in the future. Therefore, companies should be focusing on fine tuning, system sizing, compliance and energy usage to save money and also make a vital contribution to the ongoing success of a business.
Finally, it is worth bearing in mind the recently introduced CRC Energy Efficiency Scheme that will affect around 5000 UK public and private sector organisations using above 6000 MWh of electricity a year, equivalent to an annual bill of £500 000. Whilst at first glance the scheme looks like a significant financial outlay, those companies that work to drive down levels of energy consumption are likely to achieve savings well beyond the cost of participation.
It is clear that energy efficiency can only become a greater issue in years to come, so those companies willing to optimise their building portfolio through enhanced maintenance, refurbishment and management control are those businesses likely to benefit in the future.
Paul Cottam is managing director of GSH in the UK and Ireland
www.gshgroup.com
Related links:
Related articles: