High-performance insulation for rectangular ductwork
High-performance insulation for rectangular ductwork from YBS Insulation works by trapping air within its structure to create low-emissivity air pockets. Called HVAC-Wrap, this insulation has a reflective aluminium foil bonded to both sides and coated to resist corrosion. It is made in the UK and meets the requirements of BS EN ISO 9002 and has an Agrément certificate.
As the diagram shows, two layers of insulation with spacers on each corner can achieve a thermal resistance better than 2.2 m2K/W.
This insulation is installed by stretching it over standard metallic ductwork with specially designed spacers on each corner and sealing with self-adhesive tape.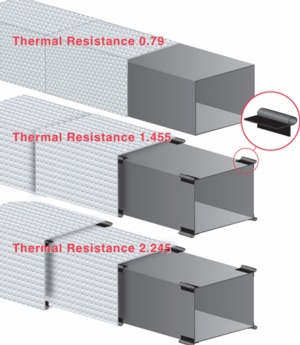 This 7 mm-thick double-bubble membrane is not affected by moisture or humidity. It comes in 25 and 50 m rolls in widths of 150, 300, 450 and 600 mm.
Related links: