Lighting the way to improved office efficiency

With European legislation about to phase out the use of inefficient lamps for lighting, Dave Ellis examines the efficient alternatives that are available for office buildings and the benefits they provide.
It is estimated that around 70% of commercial installations still use inefficient lighting products. Perhaps this is because the lighting scheme is not a high priority for everyone, but we need to change the way we think about light and put it at the forefront of office design. In doing so, we stand to make significant savings that will benefit the environment and reduce overhead costs.
Inefficient technologies used for office lighting are already in the process of being phased out as part of the EU's Energy-Related Product (ErP) Directive, designed to reduce CO2 emissions across Europe. You will have no option but to use more efficient lamps in the future.
Many companies are not doing enough to ensure that their task lighting and general building lighting is effective and efficient. The latest lighting solutions can help keep employees motivated throughout the working day and improve their levels of concentration. However, there is often not enough thought put into the types of lamps used. Instead people tend to install the cheapest lamps available or stick with what they know by using technology that is fairly antiquated in 2010.
To optimise employee performance and reduce overhead costs, it is essential that you familiarise yourself with the latest lighting solutions and the benefits that these provide. This is also important because the least efficient office lighting solutions will be removed from the market thanks to the tertiary implementing measures (TIM) of the EU's ErP Directive.
TIM began in April 2010 with the phase out of inefficient T8 fluorescent tubes. Fluorescent tubes are a mainstay of the professional lighting sector, so the phase out of basic halophosphate tubes will undoubtedly affect many people who are used to installing them in office luminaires.
The good news is that there highly efficient alternatives available to replace basic fluorescent tubes in the form of triphosphor tubes. Lamps in this range comply with EU regulations and benefit from high luminous flux, high luminous efficacy and excellent colour rendering. They significantly boost the efficiency of a building when installed with electronic control gear. As well as reducing energy consumption and cost, they provide substantial maintenance cost savings due to their long lifetime.
Efficient alternatives to T8 tubes can simply be retrofitted into existing fittings, but there are completely new possibilities which can be achieved by switching from traditional lighting technology to LED light sources. For general illumination, LED solutions are emerging as a highly efficient alternative to the soon-to-be-obsolete lighting solutions.
Since the technology behind white LEDs has improved significantly in recent years, it is now possible to consider LED lamps and luminaires for general illumination applications throughout an office building. The initial investment in LED lighting technology will also pay back very quickly due to their power consumption (80% less than conventional GLS/incandescent light sources) and long lifetime, which reduces maintenance costs.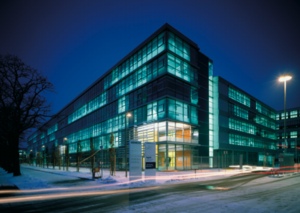 Osram, for example, recently launched its an LED downlight range, demonstrating that LED solutions are a real alternative to conventional technology for general illumination. With an efficiency of at least 50 lm/W, a life of up to 50 000 hours and a short payback period of 1.5 years, these recessed ceiling luminaires provide excellent light while reaping numerous benefits. If you want a complete change from light sources that are being banned by the EU, LED solutions are the answer.
No matter what lighting technology you install throughout a building, it is crucial that you operate this as efficiently as possible to maximise savings. The latest lighting-management systems (LMS) ensure that light is only used when absolutely necessary, which means you are not paying for lights to be on needlessly. It is possible to achieve up to a further 70% reduction in energy consumption through the installation of an LMS.
Daylight sensing and presence detection are ideal for use in buildings that want to achieve the maximum possible efficiency. Osram's Duo light and presence detector is ideal for individual or open-plan offices. It provides a choice of different operating modes — either daylight or presence detection or daylight and presence detection. This particular sensor has an energy-saving potential of up to 45% and consumes a maximum of 0.7 W when in standby mode. Costs are further reduced by maintenance-free operation and minimal installation costs.
It is time to think differently about how to light office buildings. Instead of using the familiar, it is time to explore new horizons. This is especially important because you will be forced to use efficient alternatives in the future. With EU citizens and businesses projected to save close to 40 TWh (roughly the electricity consumption of Romania) leading to a reduction of about 15 Mt of CO2 emission per year through installing energy-efficient lamps, making the switch sooner rather than later can only be a good thing. When selecting a lighting scheme, energy-efficient lamps should be the only choice.
Dave Ellis is national sales manager for specification with Osram
Related links:
Related articles: