Wired for flexibility

Plug-and-play for power distribution systems in office saves time and cost at fit-out and during later re-organisations. Chris Scott shares his experiences.
The commercial property market, in London at least, is one of the few sectors showing signs of recovery, with city rents rising by more than 20% last year and previously stalled developments being revived.
Where there's commercial new-build and churn there are opportunities for all involved in the office fit-out market, not least when it comes to electrical installation, where the traditional hard-wiring approach is still the norm. But we believe specifiers, consulting engineers and electrical contractors can offer their clients an improved service with potentially better margins by embracing new technologies and products to offer a broader portfolio of system choices that better meet client needs.
Prefabricated and modular wiring systems are one such technology; having been around for several years they are an established approach for a growing number of installers. The thinking behind them is simple — to provide a power-delivery solution that is assembled and tested off-site and simply needs clicking together during installation. A complete installation can be achieved from the distribution board to the furthest point of a circuit by linking connectors or using a home run.
Such a solutions-based, rather than solely product-related, approach enables consulting engineers to design the electrical system early in the project and source the system/components from the same manufacturer, with obvious benefits. That said, prefabricated solutions represent a whole lot more than just ease of supply. For contractors which have made use of them, the three major benefits have been clear and undisputable.
• Big time savings can be made at second-fix stage, with installation times routinely cut by 50% or more.
• Zero harm from pre-fabricated and factory tested systems that offer safe and problem-free connection with no on-site cutting. Keyed connectors guarantee cable sizes match and ensure correct polarity.
• Zero waste from prefabricated, modular solutions that are easy to reconfigure and allow changes to be made more easily during fit-out.
The key to making this approach work is treating each project as a blank canvas and exploring different power delivery solutions to come up with the perfect bespoke system. For example, power may be fed through the floor, ceiling or via dado trunking — or a combination of all three. Projects utilising prefabricated wiring systems may also use hard wiring alongside them, demonstrating the complete flexibility of this approach.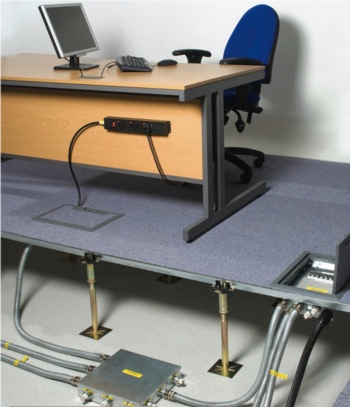 The great advantage of a prefabricated system shows itself during the second-fix stage. Although the initial purchase price may be higher than that of hard-wire products, at second-fix the speed of connection is indisputable and clearly shown to outweigh costs. It has the added advantage that it allows project managers much greater flexibility of management to free up personnel more quickly to tackle other work.
Adopting a prefabricated approach does call for a change in working practices since more design and planning is done in advance. For Marshall-Tufflex clients this means supplying project drawings to enable us to fully evaluate the electrical requirements of the scheme, measure the lengths of cables required, assess the number of home runs needed etc. This information is used by our clients to price the contract. Once given the go-ahead, we fabricate the components, which are then sent to site fully factory tested and boxed ready for installation.
Leading prefabricated wiring solutions work on a radial circuit rather than a ring main. The radial approach is well accepted around the world; ring circuits are peculiar to the UK.
There are, however, important and proven advantages to installing radial circuits. Fewer cable lengths are required, and less copper may be used. Faults are easier to identify because a break results in an obvious disconnection of electrical supply to the rest of the circuit. With a ring main, a break is not always immediately apparent. Adopting a radial approach also removes the requirement to adhere to Regulation 433-02-4 (433.1.5 in the 17th Edition) of the Wiring Regulations. Radial circuits can offer a quicker, more cost-effective and safer way to work. That said, both ring and radial circuits are accepted to have a place in modern electrical installations.
It is this switch from the familiar hard-wiring and ring-mains scenario that can be the stumbling block. However, for contractors and designers of electrical systems who have tried the prewired approach it has proved successful.
Take, for example, Glasgow Housing Association's new offices in Govan, where prewired floor boxes were installed. Craig Stevenson, electrical estimator at installer Morris & Spottiswood, said, 'Using prewired floor boxes is a more effective way of using our time than traditional hard wiring.'
The flexibility of the system was also ably demonstrated during the electrical fit-out of new police headquarters in the Tees Valley. 'We needed a system that would give us the flexibility to allow significant changes right from the start,' explains Martin McKay of CAD21, the consultants responsible for the electrical design and specification of the police unit. 'As we were accommodating several operating structures within a single building, it was likely to be subject to internal re-positioning of office furniture and associated wiring of services. Therefore we required a power distribution system that would allow us to add to or adapt the system without having to make costly and time-consuming modifications to the fabric of the building, such as lifting floors.
'Prewired floor boxes delivered the flexibility we needed across several significant layout alterations. And, by eliminating the work involved in moving traditional floor boxes, we were also able to make cost savings on the later variations.'
Chris Scott is product manager with Marshall-Tufflex.
Related links:
Related articles: