Variable-speed drives as a day-to-day reality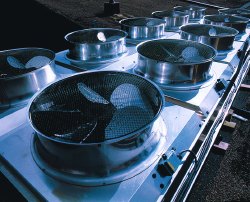 Considering the benefits offered by variable-speed drives — including competitive cost — Nick Thorne argues that there is often no benefit in using traditional systems without drives.While variable-speed drives (VSDs) help save significant amounts of energy by making motors draw less power, great energy savings can also come about from the design flexibility these drives offer. Improved building insulation seems to be the way of the future. The new Building Regulations Part L, due to come into force later this year, will significantly tighten standards on the air permeability of buildings. This will require more effective ventilation, giving VSDs an increasingly important role for designers and users alike. By increasing airtightness and using mechanical ventilation with heat recovery, the energy consumption for space heating can be reduced by as much as 30%. The savings tend to be greater in commercial buildings than domestic ones, as non-commercial buildings are more influenced by outside air movements due to their size. Better sealed buildings means higher energy efficiency. However, unless effective ventilation is provided, it also means trapping stale air and humidity inside buildings, potentially leading to the so-called sick building syndrome. The proposed changes to Part L will mean more use of mechanical ventilation. Using VSDs is the most effective way to achieve this.
A more robust HVAC system
A traditional mechanical control system for ventilation plant typically uses a mechanical arm on a jockey motor raising and lowering a damper to control air flow. This results in a system that is more costly, less efficient, more delicate and prone to disturbances — so requiring more maintenance, as well as being less flexible. The VSD, by contrast, is robust, energy saving, easy to install and low on maintenance. Drives also have the flexibility to communicate with one another, with other devices on the network and with an overriding control system. A mechanical system can do none of this, apart from receive an analogue input. The proposed new Part L requires that ventilation fans should be capable of achieving a specific fan power at 25% of its design flow rate which is no greater than that achieved at 100%. It also says that all fans above 1100 W should have a means of efficient variable-flow control. With a VSD, the motor power is proportional to the cube of the speed. This means that the power drawn drops away much faster than the speed when speed is reduced; for instance, at 80% speed, the motor only uses 50% of the power. Many commercial buildings also require cooling due to high internal gains from people or machines. In such cases, heating may not be needed, and better insulation will not improve the energy efficiency. However, the new Part L still requires energy efficiency improvements compared to today's standards, so in this case, load reduction becomes the target. The energy savings offered by VSDs compared to traditional systems will be a significant help to achieve this. These are concepts that designers need to take to heart before too long. Many consultants rely on using systems they know — preferring to use tried-and tested-solutions from the past. Frequently, the result is an HVAC system that is not ideally matched to the application. In many cases, this approach will fail to meet the new and more stringent energy-efficiency requirements of Part L.
Better control at lower cost
There is often no benefit in using traditional systems without drives, not even cost. A ventilation system with drives has every possibility to be just as competitive on price. If the consultant wants a bare-minimum system, a system with a drive and a motor at the end of the cable is hard to beat in terms of simplicity. But it is the programming and communications options offered by VSDs that primarily will help designers achieve more efficient systems. In buildings with a building-management system, variable speed drives can help adjust conditions to a high degree of accuracy. Drives give much greater scope for controls provision, an area where we might see major improvements in the coming years. For example, demand-controlled ventilation could become the norm. Substantial energy savings could be achieved in buildings with variable occupancy. There may also be increasing scope for combining ventilation with heating systems, even in domestic applications. VSDs have in recent years come down to a size and a price that would be acceptable in the domestic market.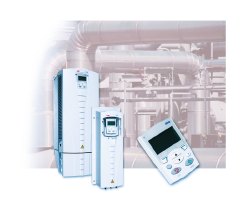 hile variable-speed drives (VSDs) help save significant amounts of energy by making motors draw less power, great energy savings can also come about from the design flexibility these drives offer. Improved building insulation seems to be the way of the future. The new Building Regulations Part L, due to come into force later this year, will significantly tighten standards on the air permeability of buildings. This will require more effective ventilation, giving VSDs an increasingly important role for designers and users alike. By increasing airtightness and using mechanical ventilation with heat recovery, the energy consumption for space heating can be reduced by as much as 30%. The savings tend to be greater in commercial buildings than domestic ones, as non-commercial buildings are more influenced by outside air movements due to their size. Better sealed buildings means higher energy efficiency. However, unless effective ventilation is provided, it also means trapping stale air and humidity inside buildings, potentially leading to the so-called sick building syndrome. The proposed changes to Part L will mean more use of mechanical ventilation. Using VSDs is the most effective way to achieve this. A more robust HVAC system A traditional mechanical control system for ventilation plant typically uses a mechanical arm on a jockey motor raising and lowering a damper to control air flow. This results in a system that is more costly, less efficient, more delicate and prone to disturbances — so requiring more maintenance, as well as being less flexible. The VSD, by contrast, is robust, energy saving, easy to install and low on maintenance. Drives also have the flexibility to communicate with one another, with other devices on the network and with an overriding control system. A mechanical system can do none of this, apart from receive an analogue input. The proposed new Part L requires that ventilation fans should be capable of achieving a specific fan power at 25% of its design flow rate which is no greater than that achieved at 100%. It also says that all fans above 1100 W should have a means of efficient variable-flow control. With a VSD, the motor power is proportional to the cube of the speed. This means that the power drawn drops away much faster than the speed when speed is reduced; for instance, at 80% speed, the motor only uses 50% of the power. Many commercial buildings also require cooling due to high internal gains from people or machines. In such cases, heating may not be needed, and better insulation will not improve the energy efficiency. However, the new Part L still requires energy efficiency improvements compared to today's standards, so in this case, load reduction becomes the target. The energy savings offered by VSDs compared to traditional systems will be a significant help to achieve this. These are concepts that designers need to take to heart before too long. Many consultants rely on using systems they know — preferring to use tried-and tested-solutions from the past. Frequently, the result is an HVAC system that is not ideally matched to the application. In many cases, this approach will fail to meet the new and more stringent energy-efficiency requirements of Part L. Better control at lower cost There is often no benefit in using traditional systems without drives, not even cost. A ventilation system with drives has every possibility to be just as competitive on price. If the consultant wants a bare-minimum system, a system with a drive and a motor at the end of the cable is hard to beat in terms of simplicity. But it is the programming and communications options offered by VSDs that primarily will help designers achieve more efficient systems. In buildings with a building-management system, variable speed drives can help adjust conditions to a high degree of accuracy. Drives give much greater scope for controls provision, an area where we might see major improvements in the coming years. For example, demand-controlled ventilation could become the norm. Substantial energy savings could be achieved in buildings with variable occupancy. There may also be increasing scope for combining ventilation with heating systems, even in domestic applications. VSDs have in recent years come down to a size and a price that would be acceptable in the domestic market. The VSD can also be a valuable tool for energy management. It is easy to read from a drive how much energy has been drawn. This means drives can help bill energy costs to occupants of buildings. With or without the new Part L, VSDs are one of the most effective ways to save energy in buildings, often offering payback in months on energy savings alone. But they also help other technologies become more effective as part of an overall package.hile variable-speed drives (VSDs) help save significant amounts of energy by making motors draw less power, great energy savings can also come about from the design flexibility these drives offer. Improved building insulation seems to be the way of the future. The new Building Regulations Part L, due to come into force later this year, will significantly tighten standards on the air permeability of buildings. This will require more effective ventilation, giving VSDs an increasingly important role for designers and users alike. By increasing airtightness and using mechanical ventilation with heat recovery, the energy consumption for space heating can be reduced by as much as 30%. The savings tend to be greater in commercial buildings than domestic ones, as non-commercial buildings are more influenced by outside air movements due to their size. Better sealed buildings means higher energy efficiency. However, unless effective ventilation is provided, it also means trapping stale air and humidity inside buildings, potentially leading to the so-called sick building syndrome. The proposed changes to Part L will mean more use of mechanical ventilation. Using VSDs is the most effective way to achieve this. A more robust HVAC system A traditional mechanical control system for ventilation plant typically uses a mechanical arm on a jockey motor raising and lowering a damper to control air flow. This results in a system that is more costly, less efficient, more delicate and prone to disturbances — so requiring more maintenance, as well as being less flexible. The VSD, by contrast, is robust, energy saving, easy to install and low on maintenance. Drives also have the flexibility to communicate with one another, with other devices on the network and with an overriding control system. A mechanical system can do none of this, apart from receive an analogue input. The proposed new Part L requires that ventilation fans should be capable of achieving a specific fan power at 25% of its design flow rate which is no greater than that achieved at 100%. It also says that all fans above 1100 W should have a means of efficient variable-flow control. With a VSD, the motor power is proportional to the cube of the speed. This means that the power drawn drops away much faster than the speed when speed is reduced; for instance, at 80% speed, the motor only uses 50% of the power. Many commercial buildings also require cooling due to high internal gains from people or machines. In such cases, heating may not be needed, and better insulation will not improve the energy efficiency. However, the new Part L still requires energy efficiency improvements compared to today's standards, so in this case, load reduction becomes the target. The energy savings offered by VSDs compared to traditional systems will be a significant help to achieve this. These are concepts that designers need to take to heart before too long. Many consultants rely on using systems they know — preferring to use tried-and tested-solutions from the past. Frequently, the result is an HVAC system that is not ideally matched to the application. In many cases, this approach will fail to meet the new and more stringent energy-efficiency requirements of Part L. Better control at lower cost There is often no benefit in using traditional systems without drives, not even cost. A ventilation system with drives has every possibility to be just as competitive on price. If the consultant wants a bare-minimum system, a system with a drive and a motor at the end of the cable is hard to beat in terms of simplicity. But it is the programming and communications options offered by VSDs that primarily will help designers achieve more efficient systems. In buildings with a building-management system, variable speed drives can help adjust conditions to a high degree of accuracy. Drives give much greater scope for controls provision, an area where we might see major improvements in the coming years. For example, demand-controlled ventilation could become the norm. Substantial energy savings could be achieved in buildings with variable occupancy. There may also be increasing scope for combining ventilation with heating systems, even in domestic applications. VSDs have in recent years come down to a size and a price that would be acceptable in the domestic market. The VSD can also be a valuable tool for energy management. It is easy to read from a drive how much energy has been drawn. This means drives can help bill energy costs to occupants of buildings. Variable speed drives will become increasingly important in HVAC systems with the introduction of the new Building Regulations Part L. With or without the new Part L, VSDs are one of the most effective ways to save energy in buildings, often offering payback in months on energy savings alone. But they also help other technologies become more effective as part of an overall package. The VSD can also be a valuable tool for energy management. It is easy to read from a drive how much energy has been drawn. This means drives can help bill energy costs to occupants of buildings. With or without the new Part L, VSDs are one of the most effective ways to save energy in buildings, often offering payback in months on energy savings alone. But they also help other technologies become more effective as part of an overall package. Nick Thorne is with ABB Motors & Drives Ltd, 9 The Towers, Wilmslow Road, Didsbury, Manchester M20 2AB.
enquiries@gb.abb.com Related links: