Stokvis helps Edinburgh health centre exploit solar energy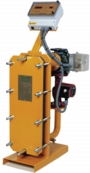 The solar heating system for the new Chalmers Sexual Health Centre in Edinburgh is expected to achieve energy saving of 8.5 to 10.5 MWH a year. Supplied by Stokvis Energy Systems, it comprises seven Ecotube DF20 solar evacuated tubes, a solar-thermal single coil, 1600 l buffer vessel, unvented mains kit, bare-plate heat exchange and a free-issue transfer pump.
The heat exchanger between the solar side and DHW is controlled by a building-management system. Gas-fired boilers support the heating system. When the DHW system needs to be topped up, the control system activates the boilers and a plate heat exchanger connecting them to the hot-water storage vessel.
Malcolm Aitken, the Stokvis sales manager responsible for Edinburgh, explains, 'The entire system must be integrated to allow the solar system always to pre-heat the vessel. Control is particularly challenging because the BMS has to respond to a number of temperature sensors within the storage vessel and interpret them accurately to know then to switch the heat generators on and off. It also has facilities to regularly circulate the stored water to prevent the formation of legionella.'
Independent tests show that the Stokvis solar collector produces over 750 kWh/m2 a year in direct heating mode and 850 kWh/m2 a year in pre-heat mode.
Related links:
Related articles: