Lightening the energy burden
Rapidly evolving lighting technology means that replacing or upgrading lighting systems can be relied on to achieve significant energy savings and rapid paybacks — explains Steve Kearney.
Most businesses in the UK are seeking ways of saving money as the economic climate continues to be challenging. One of the most effective methods of achieving this is to reduce energy consumption, which will not only cut operating costs but also keep carbon emissions down. A good way to manage energy spend is to examine the efficiency of lighting. Simple measures can make significant savings in terms of energy wasted, and many technologies are easily retrofitted.
For those seeking ways of achieving more energy-efficient premises, installing new lighting and lighting controls provides a good opportunity while giving a rapid return on investment.
When looking at energy saving, the focus can often be on heating and ventilation, and lighting may not always be front of mind. Replacing existing lamps and light fittings can, however, make a significant difference to the running costs of a building.
Lighting technology is constantly changing with new developments offering increased benefits for reducing energy wastage in buildings such as schools, hospitals, offices and warehouses. Specifiers can work with manufacturers and specialist distributors to identify what is best for their individual application. It is estimated that energy consumption accounts for up to 88% of lighting costs, so an evaluation of the existing lighting installation to seek improvements can be a very worthwhile exercise.
One of the best ways of saving energy on lighting is to switch to the latest generation of T5 fluorescent tubes that run on high-frequency electronic ballasts as opposed to conventional electromagnetically ballasted products. Normally, this change would involve replacing the luminaires as well as the lamps themselves, but recent developments mean this is not necessary.
A good solution is to use plug-in ballasts which can be fitted directly onto the end of T5 tubes with a small extension piece at the other to simultaneously provide the appropriate ballast and increased tube length to enable operation with existing fittings. This will also avoid the inconvenience and disruption of installing new luminaires and result in energy savings of 25 to 56%, depending on the fittings being converted.
Another simple, yet effective technique is to change 50 and 35 W halogen dichroic lamps to 5 W LED alternatives, which can reduce energy consumption by up to 90%. Another major benefit is that LED lamps will normally last up to 25 times longer to give a life of 30 000 to 50 000 h compared to 2000 h of use. This means the cost of LED retrofit lamps will be repaid within 12 months based on energy savings alone. Maintenance costs are also significantly reduced over the product life.
For applications using SON or metal-halide sources such as warehouse, car park and amenity lighting, selecting long-life, energy-saving induction lamps can offer a number of advantages. In such applications installed fittings are often difficult to reach, and replacement can cause disruption of normal operations. The latest generation of induction lamps will provide energy savings of up to 60% and a product life of up to 100 000 h, or 11 years of continuous operation. Although the initial product cost of induction lamps is higher, the immediate energy saving and ongoing reduction in maintenance costs gives induction lighting distinct advantages when compared to the costs associated with metal-halide and fluorescent alternatives. These can be enhanced further in low-occupancy areas by switching them using presence detectors.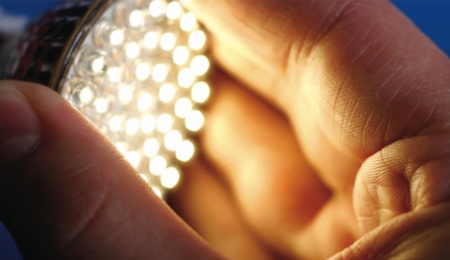 For an application where changing traditional SON or metal-halide lighting systems is not an option, there are technologies to assist in cutting out wastage associated with lighting loads. Power optimisation units are available that fit between the electricity supply and the lighting load. A combination of voltage optimisation, power-factor correction and harmonic filtration reduces energy consumption by preventing wastage.
These single-phase units sit in line, either at the distribution board or applied to individual circuits to constantly monitor load, while regulating the supply voltage to the optimum. By introducing digital capacitance to the inductive load created by lamps, it is possible to solve the poor power-factor issue often found in lighting circuits and improve it to be as close to the ideal as possible. The additional filtration of all bad harmonics and removal of harmful spikes combine to give substantial savings.
An automatic bypass ensures that power continues to the lamps should any failure occur or if the power environment changes from that set at commissioning.
Technology is changing and improving at an incredibly fast pace and with the rapid development of LED lighting solutions, wasted energy is now very much regarded as a design flaw in buildings.
Those selecting equipment for projects need to consider not just the lighting effects they are looking to create, but are now having to take into account the wider picture of energy consumption and overall lifecycle. This concept is also being driven by legislation relating to the reduction of carbon-dioxide emissions and also issues of sustainability.
As environmental awareness grows, saving energy and, in turn, reducing annual energy expenditure and carbon emissions needs careful consideration. Drawing upon the available industry expertise and the latest products and techniques will ultimately lead to the right solution being found for lighting applications.
Steve Kearney is business manager for the specialist products division of Newey & Eyre.
Related links:
Related articles: