Carbon 60 before 2020 is on the cards for CIBSE headquarters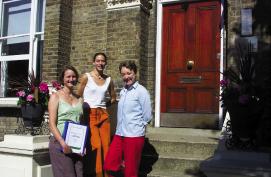 CIBSE's headquarters buildings in south London could achieve the Government's Carbon 60 target with at least 30 years to spare — using proposals in the winning entry of the institution's Carbon 60 competition. The ideas are widely applicable to existing buildings.When the Chartered Institution of Building Services Engineers embarked on its Carbon 60 competition to reduce carbon emissions from its headquarters buildings in Balham by 60%, the organisation had already taken a major step with an audit carried out by Target Energy Services. That audit proposed a range of measures to reduce carbon emissions by 33% — more than halfway towards the 60% target of the competition.
Showing the way to delivering carbon 60 in existing buildings — CIBSE's headquarters buildings in south London includes a 3-storey Victorian building (first picture) and the single-storey conference centre, which is about 20 years old.
The Government's timescale for reducing carbon emissions by 60% is 2050. CIBSE's objective is very much shorter — with a constraint on entrants of a 10-year payback for any measures put forward. A major incentive of the competition was that measures in the winning entry would be implemented — so even with a short delay, CIBSE could be delivering the 60% reduction by 2020, or even earlier.
10-year payback
Chani Leahong is a member of the winning team from Fulcrum Consulting in London.* She told us, 'Achieving 60% carbon emissions in a building is not difficult, Achieving that 60% reduction within a reasonable payback period is much more difficult — and we had to work within the constraint of a 10-year payback.' The challenge was made more difficult by CIBSE's Delta House headquarters and the adjacent conference centre being located in an urban environment, which makes it more difficult to exploit renewable technologies. Fulcrum director Andy Ford invited engineers interested in entering the competition to form a team and arranged some hours to be allocated to team's work on the proposals.
Practical and pragmatic
A practical and pragmatic approach was adopted by the Fulcrum team. Most of the ideas put forward had already been applied to other Fulcrum projects — though not specifically as part of schemes to reduce carbon emissions by 60%. Chani Leahong explains, 'Perhaps the most meaningful part of our entry, which set it apart from many other carbon-saving proposals, was addressing the management and operation of the building and ways to change its energy use without significant capital-cost outlay. 'The objective of reducing energy use is often approached using active engineering solutions, rather than passive solutions. We addressed the passive first — and then the active 'My feeling is that we won the competition because our proposals included on a range of common-sense operational suggestions. Only the final 15 to 20% of energy-saving measures were based on active mechanical measures.'
Winning approach
The winning approach was based on reducing the demand for energy, followed by an examination of how carbon emissions associated with the energy used could be reduced. The final proposal was very firm that this was the right order. 'If the overarching approach is to reduce carbon-dioxide emissions, it could be argued that the simplest approach is to make a one-off investment in zero-carbon supply technology. On this small, crowded urban site in the UK, many renewable technologies like wind (poor performance in urban areas where wind speeds are low) and photo-voltaics (long pay-back periods in the UK climate) would not be optimised. 'The idea of buying "green" electricity may look appealing, encouraging investment in large-scale renewable electricity generation, but it does not address issues around changing our energy-hungry behaviour and curbing unsustainable rises in future energy consumption. 'The basis of the competition is to take account of the annual carbon emissions using national carbon intensities for energy supplied across the site boundary, so our savings do not include the possible savings from renewable electricity supplies, but we would strongly advocate changing to a "green" supplier.' To build on the measures proposed by Target Energy Services to reduce energy consumption by 33% (representing 26 010 kg of carbon dioxide a year) at a cost of £4700, further reductions of 27% had to be found. The Target measures include compensation control of heating circuits, installing condensing boilers and repairing thermostatic radiator valves. On the lighting front, the replacement of T12 fittings in corridors and the publication store was recommended, as well as revising lighting control and installing presence detectors in stores, service areas and toilets These proposals also included a 'last-man-out' switch to provide an easy way of ensuring that equipment such as photocopiers, printers, fans and lights are turned off when the building is empty. For a rewiring cost of £500, this measure is estimated to save 400 kg of carbon dioxide a year (0.5%). Energy demand can be reduced by upgrading roof insulation in the loft spaces of Delta House and draught stripping. Following such passive measures, active measures such as mechanical ventilation with 50% heat recovery are suggested — based on the whole-house type ventilation systems (installed floor by floor to save on ductwork and riser space) for domestic premises now offered by several suppliers. These whole-house units would be installed on a floor-by-floor basis, thus avoiding the need to find space for risers, ductwork and large central plant, which can be problematic in an existing building. The 7% saving (5921 kg of carbon dioxide a year) comes with a cost of £2000 to £5000, some of which will be part of planned preventative maintenance.
Participation
The management plan included consultation and participation of the CIBSE team. The Fulcrum team felt that behavioural changes such as turning lights out and possibly centralising all the heat-generating reprographics equipment in one place to reduce summer-time over heating would need implementation in collaboration with a convinced work force. Other cost-effective savings include optimum start for the boiler, with a bypass for the heating circuit to reduce the temperature of radiators on warm days and automatic shut-down during the summer. An estimated 2% reduction in carbon-dioxide emissions (1598 kg a year) could be achieved by minor changes to controls and valves costing £500 to £1500. Similar savings could be achieved by involving the people working in the building by installing in a central location visible check meters for electricity and water consumption for each floor. Such a strategy has been successfully adopted at the Centre for Alternative Energy in Wales and could deliver up to an estimated 2% savings for CIBSE (80 kg of carbon dioxide a year) for an investment of £500 to £1500. The only direct use of renewable energy proposed is solar collectors to generate domestic hot water, with a reduction in carbon-dioxide emissions of 2.1% (1680 kg a year). The cost is put at £3000, after a 50% grant.
Every contribution counts
When you are looking to reduce carbon-dioxide emissions by 60% without using expensive technology, every contribution counts. One 'free' contribution will, in due course come from the routine replacement of PC monitors with flat-screen monitors — with their lower power consumption, an associated reduction in the number of desk fans needed and replacing white goods with A-rated devices. The cost would be £20 000 to £25 000 spread over 10 years, but adding no extra cost since these items would in any case have to be replaced. An added benefit is that this low power equipment throws out much less heat into the office space, helping to reduce summer time over-heating. Having addressed the major demand-side considerations, a 5 to 10% reduction in carbon emissions (representing 2000 to 8000 kg of carbon dioxide a year) is proposed by negotiating a green-energy-supply contract with a company such as Ecotricity. Because competitive tariffs are available, the cost would be negligible. This proposal is not within the 60% carbon-emissions reduction. It would be an additional 5 to 10% reduction — resulting in a total reduction potentially approaching 70%.
Biggest reduction
The biggest single energy reduction in the long term is also a supply-side measure based on the implementation of a micro-CHP system, with a 12% saving representing 9400 kg of carbon dioxide a year. With a basic cost of £8000 to £12 000, this is an expensive measure. However, if micro-CHP were to be installed when boiler plant is replaced, the cost would be reduced to an overcost of £3000 to £4000. Even excluding the contribution from green tariffs, the total saving is 60.3%, with an overcost of about £30 000. For a quick estimate on energy-cost savings, the 7% reduction in carbon emissions by improved draught stripping, upgrading roof insulation and heat-recovery ventilation represents an energy consumption of 30 000 kWh. That is a cost of around £1000 (assuming 3.33 p/kWh). Extrapolating to 60% gives over £8500 a year. The inevitable conclusion is that such Carbon 60 measures are good economic sense. All the options suggested have a 10-year payback, although the solar water heating only qualifies by virtue of a 50% grant on its £6000 cost. Technologies that were considered but rejected included photo-voltaics, heat pumps, fuel cells and other technologies presenting difficulties due to spatial limitations or with very high capital costs. However, Chani Leahong does not preclude their use on other projects where parameters, such as size of energy demand or local environment, are different, thus opening up the viability of these options. Important considerations are that renewable heat can be stored very efficiently at the scale of an individual building, but renewable electricity cannot easily be stored. This is an important point for individual, single-use buildings with particular consumption patterns from Monday to Friday and no occupation at weekends. The site lends itself to a communal system, because there is a school and housing block nearby whose usage patterns might complement a small office complex. However, at this time solutions which create local, mixed use 'energy zones' are not really explored, even though the sustainable communities ideal set out by the ODPM could be taken to this technological extreme.
Imaginative
CIBSE's imaginative Carbon 60 Competition is showing the way towards achieving the Government's objectives. But with the proposals put forward for CIBSE's own premises, that timescale of 2050 looks very generous. The next stage in the process is for the proposals to be implemented and lessons learned. The good news is that monitoring will be a major part of energy management at CIBSE, so others will be able to benefit from these efforts.
*The team was led by Kate Crawford, (who is now working on a PhD at University College London), and also included Susie Woollett and David Frank.