The vital role of housing in achieving carbon 60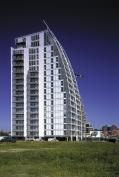 Reducing the energy consumption of housing in the UK is a vital part of delivering the Carbon 60 objective. Reg Brown explains.The built environment is often quoted as being responsible for around 40% of primary energy consumption and consequent carbon emissions. In fact, 31% of primary energy supplied to the UK[1] is consumed by housing. Housing energy consumption is second only to transport and over the last 20 years has increased by about 1% per annum. By comparison, the 'services sector', including the energy needed to heat and cool non-domestic buildings, consumes only 13% of primary energy, and absolute levels of energy consumption have hardly changed during the last 20 years. The UK Government aims to reduce energy consumption from the built environment through a combination of fiscal measures (taxes and incentives), ever-more stringent application of the Building Regulations in conjunction with the Energy Performance of Buildings Directive and public information (through the Energy Saving Trust and the Carbon Trust). But how is this going to work?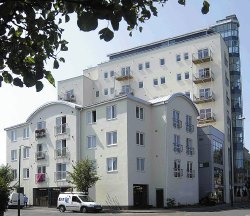 To reduce heat loss as part of the transformation of a 1970's building into new flats, affordable housing and a business centre that is Vineyard Heights in Mortlake, some 2400 m2 of MR Swisstherm external wall insulation was specified by Edward Hill Partnership. The 80 mm EPS boards were over-coated with a low-maintenance weather-protective Silkolitt render. [Photo. Insulated Render & Cladding Association Ltd]
The number of dwellings in England is relatively steady at around 20.5 million[2]. The number of dwellings completed in England in 2003/2004 was 143 367 (the average for the last five years was 137 325)[3]. Therefore, while new housing is intrinsically more energy efficient than old housing, the rate of replacement is so small (0.7% a year) that in principle it would take 150 years to turn over the entire housing stock. The rate of replacement is similar in Wales but slightly faster in Scotland (1.0% a year). Even if all new houses were 'zero energy', it would hardly make a dent in carbon emissions. Clearly the focus must be on increasing the energy efficiency of the existing housing stock and, where possible, switching to renewable forms of energy. Up to now, the traditional building-services contractor has had little to do with low-density housing, but the installation of renewable-energy systems in particular often calls for a combination of skills, expertise and design backup that the jobbing builder, plumber or electrician may be unable to provide. It also seems likely that in the longer term services systems in housing and commercial buildings will become more similar than at present, with the main difference being in scale rather than underlying technology.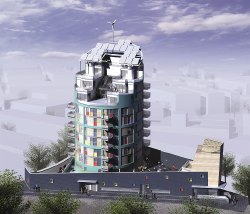 Among the range of alternative-energy and sustainable technology used in this residential building on Taylor Woodrow's Macintosh Village development in Manchester are Viessmann solar water-heating panels and five Vitodens 200 condensing boilers. Over a year, it is estimated that 35 to 40% of hot-water requirements will be met by solar energy.
EST and the Carbon Trust provide very good information on the kinds of measures that can be taken to save energy today, but there are still major barriers to actually doing it, whether in housing or commercial buildings. These include: • a fix-it-when-it-breaks culture; • shortage of reliable contractors; • prolonged payback periods; • suspicion of projected benefits. We need to focus on how to remove or reduce these barriers, for example by: • promoting consumer awareness through extension of labelling schemes for products and buildings; • improving availability of good contractors by encouraging more people into industry training schemes; • making renewable energy more affordable through grant schemes and incentives; • convincing people through local demonstration schemes that the claimed benefits really can be achieved. Research can help to improve the application of existing energy saving solutions as well as developing and promoting new low-carbon technologies. Examples of retrofit technologies that can have a significant impact on carbon emissions include heat pumps, combined heat and power, high performance external insulation and solar collectors.
Heat pumps
Exhaust air heat pumps are fitted to virtually every new house in Sweden — but are non-existent in the UK. The heat pump is used to generate domestic hot water and is more carbon efficient than a gas or oil boiler. Other forms of heat pump provide space heating, also with much lower carbon emissions than the equivalent gas or oil boiler. Carbon emissions are reduced by 40% compared to a gas-fired boiler, giving a reduction in overall carbon emissions of 10% for commercial buildings but over 30% for dwellings. The cost of electricity to run the heat pump is currently comparable to the cost of gas for the boiler, but this will probably change in favour of heat pumps.
Combined heat and power
Domestic micro-combined heat and power (CHP) is just about available in the UK with the Stirling engine 'Whispergen' unit being made available through Powergen. In the near future, fuel-cell CHP will also become available for the domestic and small-commercial markets. Micro-CHP provides carbon benefits compared to the equivalent boiler, but how much depends on mode of operation. A larger internal combustion engine mini-CHP unit from Baxi, currently being demonstrated at BSRIA is expected to achieve a 20% reduction the in carbon emissions compared to a gas fired boiler. However, while the fuel costs should be less than a gas boiler (for the equivalent amount of heat and electricity) the lifecycle costs are less certain.
External insulation
External insulation has become important for high-rise housing and some non-domestic buildings. Where it can be used, it has a number of advantages over internal insulation systems. These include improved weatherproofing, achievement of very high levels of thermal performance without loss of internal space, reduced infiltration losses and avoidance of dampness in the existing structure. U-values of refurbished buildings with external insulation can be engineered to meet best practice for new buildings. The external surface can be made visually similar to the original surface or completely different. It can also incorporate photo-voltaic or solar elements. Savings of carbon emissions could be around 10% for commercial buildings but over 20% for some dwellings.
Solar thermal collectors
Solar thermal collectors are a well established technology, but there has always scepticism that they work well in the UK climate. In fact, vacuum collectors can produce hot water for much of the year and are generally sized to save around half the energy consumption associated with hot-water production. For typical dwellings, this equates to 5 to 8% saving in carbon emissions. Although there are many other technical measures available to reduce carbon emissions, few existing buildings could not be operated at least 10% more efficiently with existing plant if the occupants and facilities-management companies were fully engaged in the process. Turning down the heating thermostat, switching off lights, avoiding waste of hot water and maintaining plant really does pay dividends. In conclusion, the focus of our attention should be on reducing carbon emissions from existing buildings, particularly housing, where major improvements are achievable with current and near-market technology. This represents both an opportunity and a challenge for traditional building-services contractors. Research is needed not just on the technical issues but to reduce the barriers to improvement through demonstrating the benefits, reducing the implementation costs and understanding the reasons why people do not take advantage of the opportunities.
Reginald Brown is head of Energy & Environment with BSRIA Ltd, Old Bracknell Lane West, Bracknell RG12 7AH.
References
1. UK Energy Sector Indicators 2004, DTi www.dti.gov.uk/energy/inform/energy_indicators/index.shtml 2. Survey of English Housing Provisional Results: 2003-04, ODPM 3. Housing statistics : Live tables: Table 204 Housebuilding: Permanent dwellings started and completed, by tenure: England, ODPM 4. Energy Use in Offices, ECON 19, Energy Efficiency Best Practice Programme