Electric water heaters do not drip while water is heating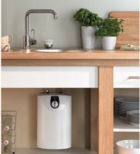 Stiebel Eltron's SN..SL range of electric water heaters now have an anti-drip function to ensure taps do not drip while the water is heating. This feature prevents waste and the build up of scale deposits in the tap. One benefit of the anti-drip function is to avoid taps being over tightened by users to prevent dripping, which can result in broken taps that need replacing.
These water heaters have capacities of 5 10 and 15 litres and also come with optional temperature limits to act as anti-scalding settings.
Related links:
Related articles: