Vent-Axia controllers offer demand-controlled ventilation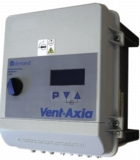 Vent-Axia's eDemand controllers can be added to existing speed-controllable fans to offer demand-controlled ventilation and to improve the performance and operating efficiency of its own range of fans. They are available for single-phase and 3-phase fans and can be controlled by signals from CO2, temperature or constant-pressure sensors.
These speed controllers eliminate issues associated with increased electro-magnetic motor noise when applying speed control, and screened cables are not required. Fans can operate in parallel with no risk of motor damage.
Vent-Axia also offers eDemand auto changeover panels to control a wide range of standard speed-controllable twin fans.
Related links:
Related articles: