Passivent and Rehau work together to deliver energy-efficient ventilation and cooling
Passivent and Rehau have combined their expertise to develop a natural-ventilation system that provides low-energy cooling. It combines Passivent's passive stack natural ventilation with Rehau's Awadukt Thermo ground-air heat exchanger. It is said to be particularly appropriate for buildings with deep floor plans and/or restricted external facades.
A cooling COP of up to 50 can be achieved in domestic environments, and 20 is said to be realistic in commercial buildings. The diagrams show how the system works in Summer (position) and Winter.
The approach has been applied to Carclaze School in St Austell, Devon, which has achieved a BREEAM 'Excellent' rating. This 2-storey school is set into a sloping site, limiting available facades.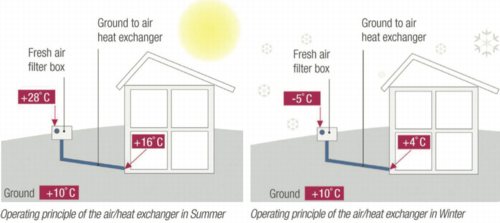 Passivent Aircool units in walls and windows optimise airflow in classrooms, complemented by an Airscoop to deliver fresh air to the upper ground floor and exhaust it. The Rehau ground-air system provides fresh air for ground-floor areas with limited or no external facades. The whole ventilation is integrated into 18 zones. Temperature and CO2 are monitored, and flow rates adjusted as required by Passivent's iC6000 controller.
Related links:
Related articles: