Zehnder's radiant heating achieve better performance and efficiency
Zehnder's Carboline range of radiant-heating panels is based on a construction that is said to make them considerably more efficient than other panels. These panels are served by hot water and can exchange up to 95% of the heat from the water, compared with a claimed 80 to 84% for a standard panel. They can also be used for cooling with similar heat-exchange efficiency.
Winner of the 2011 CIBSE award for energy-using products, Carboline panels consist of copper tubes embedded into a compressed graphite panel. This patented high-performance thermal element is then bonded into a galvanised sheet-steel casing. The overall construction achieves extremely event heat distribution with exceptional controllability.
Radiant heating can achieve comfort with an air temperature 3 K lower than systems that are largely based on convection. They also react rapidly. The combined benefit is to reduce energy consumption for space heating by around 44%.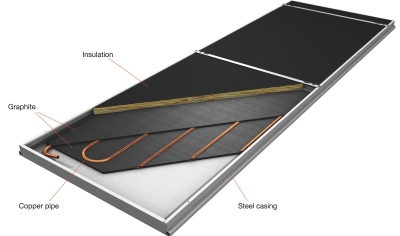 Related links:
Related articles: