It's harvest time with Dimplex at Slepe Farm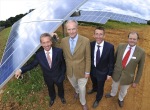 Nearly 2000 Dimplex solar PV panels have been installed at a solar power station in Dorset, said to be the largest of its kind in the county. It comprises 1780 polycrystalline solar PV panels capable of generating over 500 MWh a year and arranged over nine rows on a 3 acre site.
The scheme was commissioned by renewable power station operator Farm Power and designed and built by Anesco, a Dimplex installer partner.
The ground-mounted system has been installed on farmland at Slepe Farm, a well established organic operation close to Poole harbour and the adjacent marine and heathland nature reserves.
Full support to the scheme was given by the local councils, and it was connect to the grid just a hundred days after planning permission was granted by Purbeck District Council.
Mark Simon, managing director of Farm Power, said, 'This is a large and important project for us and fitted our aim to implement renewable generation capacity close to users so the electricity can be efficiently generated.'
Related links:
Related articles: