Football returns to Llanbradach Park with help from Andrews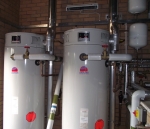 The new football pavilion in Llanbradach Park, Caerphilly, built to replace the building destroyed by arson has its hot-water requirements met by two propane-fired condensing storage water heaters from Andrews Water Heaters. The original building was over a hundred years old and its loss left Caerphilly Town FC and Llanbradach Social FC without playing facilities as they were unable to provide changing rooms for away teams and referees.
The new building's improved facilities include two shower blocks, changing room on each floor for referees, changing areas, toilets and a small kitchen. There are also public toilets accessed externally.
The building was designed and constructed by the council's in-house workforce. Two ECOflo LEC 380/740 water heaters were selected and installed by RD Mechanical Services. They each have a capacity of 380 l, an output of 43 kW and a recovery rate of 740 l/h through a temperature rise of 50 K. The gross thermal efficiency is 98%.
Related links:
Related articles: