Quality control

For commercial buildings, such as offices, hotels and leisure centres, a consistent hot water supply is a business-critical service. If a system fails, it can quickly force a business to shut its doors until a solution is found. Even more critically, you only have to look at the recent spate of legionella outbreaks in hotels around the UK to see the devastating impact a failure in water maintenance can have on a business. However, despite this there are still a large number of business owners who do not have a programme in place that meets the demands of their site.
The issue of water quality doesn't begin and end with industry standards, important though they are. A quality-first approach also requires the effective design, installation, operation, service and maintenance of plumbing systems, water fittings, and water-using appliances.
The use of professional plumbing parts, properly installed and maintained is crucial to upholding standards, which is where the Water Regulations Advisory Scheme (WRAS) comes in. As an industry organisation, the purpose of WRAS is to prevent contamination of public water supplies and encourage the efficient use of water by promoting and facilitating compliance with the Water Supply (Water Fittings) Regulations and Byelaws in Scotland.
Manufacturers can demonstrate the quality of any product associated with the delivery of water by maintaining membership and achieving WRAS approval, and there are organisations such as KIWA which provide testing and certification services. Any water fitting which, when installed, will carry or receive water from the public mains water supply in the UK, cannot cause waste, misuse, undue consumption or contamination of the water supply and must be 'of an appropriate quality and standard'.
In the commercial and public sector, where potentially hundreds of people come into contact with the water supply every day, safety is absolutely imperative. The WRAS standard is a seal of approval that demonstrates a product or solution complies with the high standards set out by water regulations. In order to achieve this, they need to undergo strict mechanical and water quality testing.
Manufacturers such as Andrews Water Heaters commit years of research, design and monitoring to make sure their products get WRAS approval, which can apply to both materials and products for five years, after which manufacturers need to re-apply.
Considering that applications are submitted across the entire product portfolio this is no small task for companies to organise, but the importance of having the quality of products independently verified is widely recognised.
Looking beyond established industry standards, an often overlooked consideration in water safety is the importance of maintaining the performance and efficiency of heating equipment. A major factor that can impact how a water heater performs is the naturally occurring presence of water borne minerals such as calcium and magnesium that cause limescale in 60% of the UK's 'hard water' supply.
Hot water cylinders, water heaters and calorifiers are particularly at risk because limescale develops more rapidly in hot water.
Deposits forming on the heat exchanger, internal pipework, and other system components, can impair the efficiency of the heater and potentially cause complete equipment failure.
Remove impurities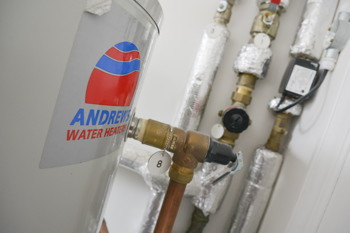 As limescale is difficult to remove once its formed, the best solution is to prevent it in the first place. There are a number of approved devices on the market, such as base or ion exchange water softeners, that treat hard water by connecting at the point of supply to prevent limescale build up.
Another approved option is to fit a physical water conditioner, often referred to as a magnetic water conditioner. This works by altering the physical characteristics, rather than changing the chemical composition, of the minerals in the water supply.
It's also worth remembering that silt and sludge can also collect inside a water storage tank and can cause similar issues to limescale, in terms of impaired performance and added maintenance. Periodic flushing of the system as part of a regular maintenance schedule can easily remove it, or a sediment filter can be fitted at the point of incoming water supply.
Ensuring a water heater performs to its optimum efficiency throughout its life span requires manufacturers to provide solutions that will combat limescale developing. But we also advise that an effective water maintenance programme should be put in place that highlights any issues before they become a problem.
System approach
Reaching the highest standards requires all stakeholders to push in the same direction - from manufacturers making sure that their products reach and exceed industry standards, to building managers putting in place the right solutions and implementing suitable maintenance checks.
By taking the steps outlined above building operators can maximise the lifespan of their hot water system. This holistic approach can ensure the performance, safety and efficiency of heating systems, both now and in the future.
David Ridgway is product application manager at Andrews Water Heaters
Related links:
Related articles: