Housing developer selects Roth solar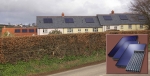 Recent orders for Roth UK solar-thermal solutions include major contracts for Summerfield Developments for its Cutcombe housing scheme on Exmoor and nearby sites at Williton and Bower Hinton. The projects utilise Roth's innovative single panel-in-roof kit, selected for system quality, ease of fitting and technical competence of the group's German manufacturing.
Summerfield is an established property developer in the south west of England and is keen to adopt state-of-the-art solutions to support its renewables programme. Richard Nicol, divisional director of Summerfield Developments, said, 'Roth's full service, including installation advice and technical assistance, was very important. Roth's support reflects our client ethos as they have been highly professional and proactive. The rising cost of heating homes makes this product a popular alternative to the traditional heat sources such as fossil fuels.'
Roth UK hosted visits from Summerfield Developments at its UK centre, where kits were viewed and instruction was provided.
Related links:
Related articles: