Heat-pump VRF system serves up to nine units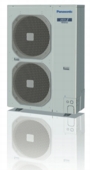 Panasonic's Mini ECOi series of VRF air-conditioning products is designed to provide cooling and heating for the light-commercial and domestic sectors. Exclusively available from Panasonic distributors, the range is available for single-phase and 3-phase electrical supplies. Starting current is just 1 A.
This 2-pipe heat-pump VRF system offers cooling capacities from 12 to 15.5 kW in three sizes to serve up to nine indoor units. The Mini ECOi series is compatible with the same indoor units and controls as the rest of Panasonic's range.
Outdoor units have DC inverter compressors using R410A. EERs of up to 4.3 and COPs of up to 4.62 can be achieved. Heating is provided down to outdoor temperatures of -20°C.
Piping length is up to 120 m (total length 150 m). The maximum height difference between outdoor and indoor units is 50 m, or 40 m if the outdoor unit is below the indoor unit. The maximum difference in height between indoor units is 15 m.
Related links:
Related articles: