BSS Industrial develops co-operative approach to prefabrication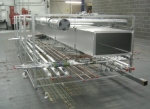 BSS Industrial is promoting its prefabrication service that utilises specialist knowledge by working closely with customers and modularisation manufacturers. The approach is based on working with customers and five modularisation manufacturers to develop solutions. BSS is also the distributor of choice for major modular builders — including CHT, SES, Balfour and MEP.
The service offers a flexible and practical build solution, in addition to technical support from conception to completion. BSS Industrial works to provide the latest prefabrication design expertise in the production of high-quality pipework, bracket and module solutions for new and refurbishment projects.
Related links:
Related articles: