Counting down to the end of R22
The use of HCFC R22 has been long in its banning. With the ultimate deadline fast approaching, Mike Nankivell highlights the benefits of replacing kit that uses R22.
The fact that in Europe the use of the Hydro-chloro-fluoro-carbon (HCFC) refrigerant R22 will be completely banned in less than three years from now has been widely publicised since the late 1990s. The manufacture of equipment designed to use R22 was officially phased out between 2000 and 2004, so it seems inconceivable that anyone still operating such equipment would be unaware that it could very soon become unserviceable. Yet according to recent surveys there remains a huge volume of R22 refrigerant in circulation, indicating that many systems are still in active use.
As a reminder, the phase-down programme was as follows.
The use of HCFCs was be banned for the manufacture of new equipment in all refrigeration and air-conditioning applications from 1 January 2001 except for two temporary exemptions.
The ban was delayed until 1 July 2002 for fixed air-conditioning equipment with a cooling capacity of less than 100 kW.
The ban was delayed until 1 January 2004 for reversible air-conditioning heat-pump systems.
There has been a ban on the use of virgin HCFCs from 1 January 2010, and there will be a ban on the use of all HCFCs, including recycled materials from 1 January 2015.
HCFC R22 was for some six decades the most widely used refrigerant in air-conditioning, heat-pump and refrigeration equipment, However, because of its chlorine content, it was classified as an ozone-depleting substance and so became the subject of a global phase-out programme, which was accelerated in Europe under the European Community (EC) Regulation No. 2037/2000.
The regulation was re-cast in 2009 under EC 1005-2009, introducing new controls including leak-check and logging requirements aligned with the F Gas Regulation.
With the manufacture of air-conditioning, heat-pump and refrigeration equipment designed to use HCFC R22 (for the European market) being finally prohibited in 2004, a number of major players ceased production well ahead of the deadlines. As a result this equipment has been classified as obsolete, and components to enable repairs can already be difficult and expensive to source.
Replacement is now the only cost-effective long-term option.
Coupled with the Energy Performance in Buildings Directive and other legislation designed to reduce the environmental impact of commercial buildings, the need for building owner/operators to show their green credentials by acting on environmental responsibilities has never been greater. In this respect, there are definite benefits to be gained from replacing R22 based equipment — quite apart from the inescapable fact that it really must be replaced sooner rather than later.
As a Daikin distributor since 1980, Space Air believes that it shares these environmental responsibilities, and we have continually invested time and effort to raise awareness of current and imminent legal obligations affecting air-conditioning, heat-pump and refrigeration equipment installations. We offer assistance with the planning process and replacement strategy for existing systems operating with HCFC R22 refrigerant and advise on all environmentally acceptable, energy-efficient alternatives available from Daikin's extensive range.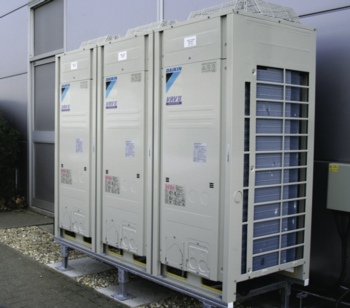 It is important that end-users can make well-informed and timely decisions when electing to replace their existing-air conditioning systems, which in some cases can represent very substantial investment.
With this in mind Space Air can detail a number of replacement options for consideration and offer information on the various practical and financial advantages of a replacement strategy, ahead of the legislated deadlines, by which time supply and install costs are expected to escalate.
Among the main benefits offered by today's alternatives to R22 based equipment include the following.
• Much greater energy efficiency and thereby reduced operating costs. As a guide, the energy efficiency of a current R 410A Daikin VRV system is nearly twice that of an R22 system installed in 2000. Add in the more sophisticated control platforms available today, compared to a decade or more ago, and the operator will enjoy a far shorter payback period.
• Current systems often have significantly reduced footprints compared with older systems of a similar capacity, which offers great opportunities to either free up useful plant space or to enable the available capacity to be increased — which may well be necessary according to the demands of the building today compared with that required when the system was originally installed.
• A recent study showed in many cases that at about £1/kW, modern equipment is in fact cheaper to purchase, albeit installation costs have risen. A number of manufacturers, including Daikin, have countered this by introducing systems that can enable existing pipework to be retained, reducing installation costs and site disruption.
• There is a much wider choice of indoor fan-coil units today, including those with self-cleaning filters, which reduce both operating, and maintenance costs. With the wider choice of fan-coil units also come reduced noise levels and improved aesthetics.
• One of the most important cost benefits in replacing R22 equipment and systems will be measured in life-cycle terms. The maintenance costs of R22 systems will already be prohibitive; availability of critical and non-critical components is extending down times and risking complete failure.
• The life expectancy of modern systems is generally longer, the efficiency better, and the refrigerant volume and costs are lower. The self-diagnostics capabilities of modern equipment and higher reliability mean that maintenance requirements are simplified and generally cheaper.
However tough it is in the present economic climate to contemplate investing in new air-conditioning, refrigeration or heat-pump equipment, anything designed to operate with R22 is, in any event, approaching the end of its useful and serviceable life, with there being little more than 30 months to a complete ban on the use of R22 for servicing purposes. Yes, if it still works the equipment can still be operated legally — but for how long and at what expense and cost to the environment?
Mike Nankivell is marketing and business-development director with UK Daikin distributor Space Airconditioning.
Related links:
Related articles: