Duct heaters for hazardous areas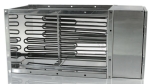 Imofa has expanded its range of electric duct heaters with a range of ATEX-certified heaters from VEAB. Designed for heating air in duct systems, central ventilation plant or industrial situations where there is a danger of explosion, these heaters are approved to EC/EFTA requirements for Zone 1 and Zone 2 hazardous areas.
Flexible design and production and a range of sizes from 1 to 400 kW enable these heaters to be adapted for a wide variety of applications and industrial sectors. Flanged and insertion versions are available for installation into duct systems and air-handling units.
Related links:
Related articles: