Metal cable trunking satisfies latest Wiring Regulations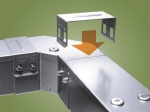 Legrand claims to have become the first company to enable metallic cable-trunking systems to be used with single-insulated (non-sheathed) cables according to the requirements of the 17th Edition of the Wiring Regulations. An amendment that came into force for all new designs on 1 January 2012 and Section 521.10.1 stipulate the need for trunking to deliver IPXXD or IP4X protection when used with these cables — which standard IP30-rated systems do not.
The required protection for Salamandre trunking is achieved using a cover strap connected to each coupler over the joint between two lids, combined with a new range of IP4X fittings that integrate fully with existing lengths and accessories to deliver a fully compliant solution. The new range has been designed with speed of installation as a key factor.
Legrand is supporting this development with a new CPD course, which can be delivered at the company's customer-training centre in Birmingham or taken directly to a client.
Related links:
Related articles: