Hamworthy helps kit out new hotel at theme park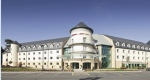 Heating and hot water for a new hotel at Drayton Manor Theme Park in Staffordshire are provided by equipment from Hamworthy Heating. The installation comprises three Dorchester DR-FC Evo water heaters and two Ensbury LT 370 low-temperature steel boilers. This hotel has 150 bedrooms. There are 11 rooms with a 'Thomas & Friends' theme, restaurant, brasserie, two bars and extensive state-of-the-art conference facilities.
Hamworthy's equipment was chosen by The Engineering Practice. Kevin Edge, who was involved with the project from the outset, says, 'On assessing the heating and hot-water requirements of the hotel, numerous products were identified to meet the demands assessed for the project. Hamworthy's products were the preferred choice.'
The water heaters are accompanied by two Hamworthy Powerstock 400 calorifiers.
The Ensbury boilers each have an output of 370 kW and a 3-pass heat exchanger designed to reduce NOx emissions. With a range of low-NOx matched burners, the boilers achieve up to European Class 5 performance.
These boilers achieve a gross efficiency of 85% at part load and enable return-water temperatures to be as low as 15°C without condensing and with no minimum flow rate.
Related links:
Related articles: