Unistrut increases UK production capacity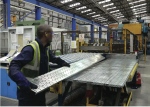 Unistrut is expanding its product development and increasing production capacity at its West Bromwich site. The development is part of a £1 million investment in new production plant and relocation of some European manufacture to West Bromwich and is part of an ongoing programme that will see new cable-management products launched in the coming months.
New manufacturing plant and procedures have increased the speed of production by nearly 70%.
The company's cable-management products include cable tray from 50 to 900 mm. Cable ladder is also available in standard sizes from 150 to 900 mm wide and in other widths on request.
Related links:
Related articles: